So when we last left of NeNe stormed out of the therapy session that SHE set up, playing the victim. Dr Jeff is chasing her through the hotel, begging her to come back and she is telling him he
needs his license revoked. NeNe has been allowed to be an undisciplined toddler for far too long. It's about time someone stopped cow towing to her. She drives off and he heads back to the room, where the girls are talking through what just happened. Porshe blames Kandi for NeNe walking out. REALLY, it's not Kandi's fault, she would have walked out regardless. With Dr. Jeff back in the room the girls start getting places. No NeNe to over talk sure does make a difference. One root of the issues is they are all so fake. They say yes issue resolved hug hug kiss kiss but then they forget. The girls get deeper with their emotions and Porshe and Claudia talk about being bullied and Kenya talks about the rejection she feels from her mother. Apologies are made for what went down in Puerto Rico and I think while most issues are still there an understanding of where they come from is a start. Kandi vents about how frustrated she is that Phaedra would talk about whatever issues she perceives their to be with NeNe and Porshe and not to her . The girls decide to make a video message for NeNe about how they started to work their issues out and thanks for setting this up. Again, Kandi is right in saying this is an ass kissing move, allowing NeNe to keep up with her child like, behaviour.
At home NeNe talks to Greg about the session and of course he has her back. Cynthia and Peter meet up with Todd and Kandi to talk about the session and Phaedra is at home talking to her friend Sarah about splitting from Apollo. We finally see some emotion from Phaedra as she talk about the best way to end her marriage. I guess talking to a real friend will bring that out in you. Kenya is having the first read of her script for Life Twirls On and Cynthia really needs to shelf that awful Jamaican accent of hers. Claudia has decided to seek out some counselling with Dr Jeff on her own and talks via video chat for the first time. She wants one on one advice to get through her own issues and feels hope that her and Porshe are on a track to something good. He suggests these women take a trip together. Is this man on crack?? Roll him the tapes of Puerto Rico please! Claudia is a little what the what about it but miracles to happen and her and Porshe actually join forces and plan a trip to……THE PHILIPINES! YES PLEASE put all these women on a plane for 18 hours and lets see who makes it out alive.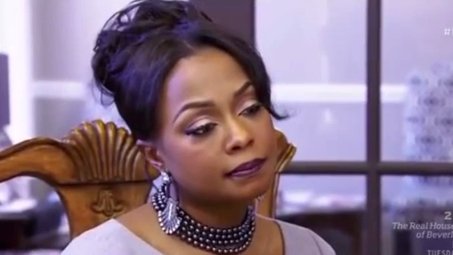 Phaedra has seeker legal council on how to proceed with a divorce from Apollo and protect herself in the process. Her pre-nup agreement with him is airtight. He can't touch her money nor can she touch his. The main concern is the children and coming up with a mutually acceptable parenting plan. She suggests taking the kids to see Apollo to see how they handle the visit, and going from there come up with an issue. She of course has issues with taking her kids to a prison to sit in a room with murders and drug dealers but honey, you married a convict. What did you expect. The lawyer does ask her why she married a man who had just gotten out of prison. FINALLY no one has dared to say it to her. She gives the excuse I thought he had changed. Her final suggestion is to take the divorce proceedings slow. He's not going anywhere so focus on the children and coming up with a plan that works for her, Apollo and the boys. Sound advice I would say.
Do you think a trip to the Philippines is what the girls need? Will NeNe and Phaedra even go? Don't forget to check out our BRAVO page for all our recaps on all the Bravo shows plus Jon is reading you the ladies blogs and giving you his take on the weeks events. ALSO we are covering HELLS KITCHEN, Survivor, Amazing Race, RuPaul's Drag Race and KING OF THE NERDS so check out their pages to keep up on what's happening. Head over to AMAZON.COM to do all your online shopping. You'll get all the same great prices and it will also help us to continue to bring you coverage of all your favorite reality shows.