Apollo has finally checked himself into prison and Phaedra can now move back into the house without fear of it being burnt down around her. She gets some help from her assistant and a few men in black as security.  She's glad all the drama is over and she can now focus on her life and the children. Aiden isn't handling things very well and she is thinking about putting him in therapy to help him deal with it. In order to cleanse the house of all the evilness Apollo brought into it she invites over a preacher to perform an exorcism.  Todd is back from LA where he and Kandi had their
fight. She is talking to him about the lack of spice in their relationship and suggests the go to counselling. He isn't to receptive at first. Kandi tells him she wants their life to be less business than pleasure. After telling her that she is no Rhianna and her bonnet doesn't turn him on he does eventually say he'll go.  Kandi goes to see Phaedra at her house to see how things have been since Apollo left.  Phaedra really doesn't want to talk about it with Kandi and I don't blame her. Kandi has been MIA since Puerto Rico so why would she spill her guts. She finally does tell her about Apollo's erratic behavior and adds that NeNe has been her rock through it all. She's called her every day and been very supportive and Kandi is really shocked at the change in NeNe. Kandi invites her to dinner with all the girls that night. Would you have confided in Kandi?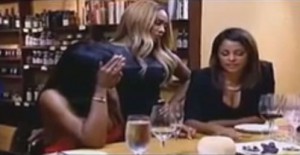 Cynthia, Kenya and Claudia are all together at a wine tasting. Cynthia can't wait to tell them all about "Chocolate" and Phaedra's cheating scandal. All the girls are shocked at the news but Kenya is also very emotional about it. She's gone through 2 years of being called a whore and a slut by someone who is apparently being a whore and a slut herself. Everyone is mad at the double standard that Phaedra is living. Back at home Cynthia tells Peter about the afternoon and how they are going out tonight for dinner with all the girls. He can't understand why she wants to hang out with girls when all they do is fight and tells that the whole Phaedra/Apollo drama has nothing to do with them. She agrees BUT feels that the hypocrisy does.
That night everyone arrives at dinner. Kandi is hoping that everyone can just chill. Has she met this group?  I also think that while Kandi never really partakes in any of the drama she is the one silently fueling it on. Every time they are all together and major drama erupts (except Puerto Rico) it's at something Kandi has planned. The evening starts off  calm and respectful. Everyone is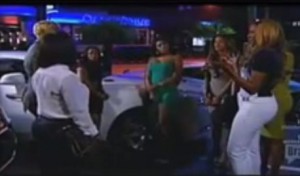 getting along or ignoring who they don't get along with. Then Cynthia opens her mouth.  She tells the group that Peter had talked with Apollo and things are as they seem. She wants to come out and put everything on the table but can't seem to get the words out. Everyone thinks she looking a fool because she's talking nonsense when she finally drops the Chocolate bomb. Everyone is shocked but Phaedra first calmly says it's all lies. Kenya is not cool with it being a lie and starts digging at her and Phaedra gets up out of her chair and goes to hit her with her purse.  They all believe Apollo somehow made up these text messages while inside the girls believe it to be true only because why would Phaedra get SO angry if it was a pack of lies. They move the fight outside and NeNe wants to know why Cynthia would bring his up in public. Cynthia explains that she is tired of everyone calling each other whores, they are grown women and should be more respectful. No one is going to back down in this least of all Phaedra or Kenya so I'm sure this fight will last right through the reunion. Everyone finally separates and the evening definitely ended with a bang.
Was dinner the right time to bring up the rumors of Phaedra's cheating and is it really any of their business? Comment on that and what you thought of this weeks episode below. Don't forget to check out our BRAVO page for all our recaps on all the Bravo shows plus Jon is reading you the ladies blogs and giving you his take on the weeks events. ALSO we are covering THE BACHELOR, HELLS KITCHEN, RUPAUL'S DRAG RACE and KING OF THE NERDS so check out their pages to keep up on what's happening. Head over to AMAZON.COM to do all your online shopping. You'll get all the same great prices and it will also help us to continue to bring you coverage of all your favorite reality shows.