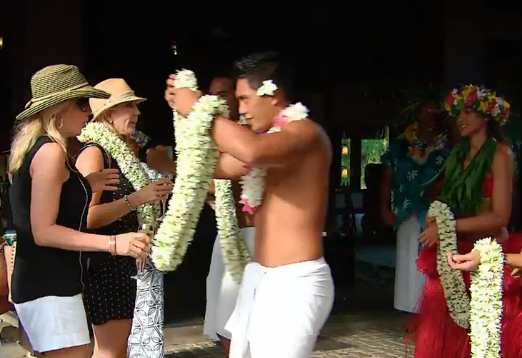 The ladies have arrived In Moorea, Tahiti. After they get off the ferry the ladies get in the van and head to their resort. When they arrive they are greeted with champagne and dance show. Tamra happens to notice that one males balls are out and bouncing around giving the ladies a good laugh. Once they all arrive to their beautiful rooms Tamra decides it is time to go topless and swim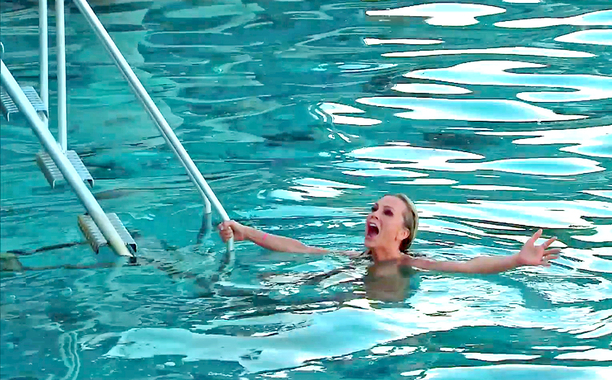 over to Meghan's room. Heather catches them out swimming and yells to Tamra that she is suppose to watch her for Eddie! The girls all head out for dinner and have a great time even though they weren't all to happy with the food options they received. Vicki then tells Lizzie she got her an EPT test to go take in the room. They all get a great laugh and are happy to find out Lizzie isn't preggo!! As Lizzie says now "Vicki get the party bus ready" and feels relieved.
Next day the group is ready to go swim with Sharks and Sting Rays. Girls begin to meet up at the hotel bar before heading out. They start to have a discussion on difference between being a Mother and a Step-Mother. Vicki and Tamra express to Meghan that she doesn't know what it is like to be a real mom. Meghan doesn't understand how they don't get how she feels and explains how she wishes she was their mom cause she doesn't get to see them all the time. Vicki feels Meghan is being extremely disrespectful with this conversation. The ladies arrive to the boat and are ready to dive in! Everyone is enjoying their time swimming with the sharks except Vicki and Shannon. Shannon is terrified and they are both screaming as they slowly enter the water. Vicki is in the water all five minutes before getting out but Heather wont let Shannon off that easy and drags her out to pet a Sting Ray. Heather is so proud of Shannon for over coming her fear of Sting Rays. On the way back to the resort the ladies stop for some food at a local pizza place. While eating Shannon gets a call from David that the twins went over for a sleep over and teeped a house and one sprained their ankle. She was happy with how she handled it with David since she usually would scream at him.
The ladies split into two groups to go out for dinner and drinks. Vicki, Shannon and Tamra stay at the resort bar while Heather, Meghan and Lizzie go out to Moorea Beach Club. Meghan is hurt with the way Vicki and Tamra came at her about motherhood. Heather and LIzzie explain to her where Tamra is coming from since she is always in custody battle with her ex. Vicki and Shannon are confused on how Heather could be friends with Meghan if she was friends with Jim's second wife. Shannon thinks it breaks girl code. The three of them proceed to get waisted taking a bunch of shots. They ladies all come together at the hotel bar and Heather is shocked to find them all so drunk. Shannon and Vicki drag Tamra into the pool while the other three watch !
Also don't forget to check out our BRAVO page where you will find all the latest recaps on RHOC and Jon's weekly recap of All things Bravo with Princess Glammy. We are also covering Big Brother 17 Amazing Race Canada and King of the Nerds UK. Eric is also reading you the blogs of all cast from RHOC and interjecting his hilarious take on what happened during the shows. You won't miss a thing Bravo related here at  Your Reality Recaps.