It's a wrap for Season Three of Vanderpump rules. We picked up in a pretty heavy place with Katie and Stassi trying to mend their friendship or at least figure out where it took a swerve. Katie has
one simple question. Why did you cut me off? Stassi can't answer it. Excuses like it was mutual and you didn't reach out were given. It's a bunch of BS, Katie tried numerous times. Stassi wasn't interested. Katie's final decision to move was when Stassi didn't care about her therapy session with Tom. Stassi does offer up an apology but its always got a string attached, i'm sorry you feel this way but I…….well then no you aren't actually sorry. We turn to Stassi and Scheana. Andy jokes if Scheana wants to get her a pino gregio which was met with only if I can throw it at her.  Jax has gotten a new tattoo and it's a replica of Stassi. She looked terrified (and I don't blame her) to see it. Jax assures her it's not her and wants everyone to mind their business and take care of them. We do get a look at said ink, and wow yes it looks like Stassi! We hit on Lisa and Stassi's relationship. Stassi thinks Lisa just kept pushing her on everyone. Lisa denies it because it isn't true. She just wanted her to not throw away her friendship with Katie, but again, Stassi is so selfish she can't get past her own issues. Scheana breaks it down pretty simply and I agree Stassi thinks she's better than everyone else. Will she admit it….HELL NO
We turn our focus to Tom and Katie now. Jax had a mission to break them up this season. It failed but he came close and he says it was because he saw him hurting and he had an issue with Katie. He also says he can't make Tom do anything so what happened boils down to Tom and not him. Katie's motor boating a D incident comes up. She says she's never cheated on Tom and Andy has to explain to Lisa what motor boating is. Probably the most hilarious part of this reunion!! We've watched Lisa counsel Katie all season, and it's a relationship I've enjoyed watching grow. Lisa is proud of Katie for standing up or herself, and tried to be a good friend to her. I say Lisa was amazing with Katie, and Katie  liked having Lisa in her corner as the voice of reason to help her through everything.
The subject of the season was Miami girl and Kristin's obsession with her and Tom. Stassi admits her behaviour was extreme but Kristin had a one track mind to prove she wasn't a liar, unfortunately what she was trying to prove became irrelevant. Kristin admits to reaching out the girl but did not fly her here. James admits it sucked to have to watch her obsess but she has moved on. Now for the truth. Tom says add up the facts, nothing makes sense, he ran because he wasn't going to play the game and had he stayed he'd probably would have lost his job. Her knowledge of his penis is stupid. She could have said it looked like anything and Kristin would have said yeah it does. The only way to prove her wrong is to drop trow and show everyone. Kristin does admit it was right for her to be fired and she probably should have quit long before. It was too hard to be in that environment. Have we found a more mature Kristin?
The event of the season was Scheana's gorgeous wedding. She doesn't regret her meltdowns. It's live and learn but she didn't want to shake herself and say it will be OK watching it back. The ring on a string was brought back up. What were you thinking Tom, she told you over and over, no ring unless it's THE Ring. He stands behind his choice though. When confronted about how mean Stassi was about Scheana's dress the REAL reason Stassi is so mad at her comes to light. There is video out there of Stassi that she's not proud of and Scheana watched it. Scheana says it was so that if he tried to do anything with it she could stop it and she always had Stassi's back. Stassi is under the impression Scheana thought they should bring it to TMZ which wasn't the case. BUT instead of bringing this to light Stassi would rather just look like a bitch. The last topic of this discussion was the slap. Kristin admits it's not OK, they have worked through it. Scheana wonders why they couldn't hold it together for just one night.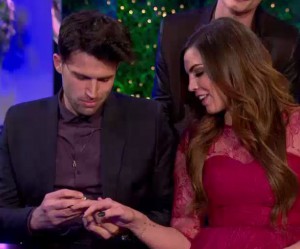 Finally the truth about Miami. Did Jax really know what happened that night. He finally admits (and is this the truth) that he was just going off what that girl said. He was out buying beer at the store and wasn't even around. Why did Jax make this up? He says it was because he was still mad from Miami. Typical Jax acting like a two-year old. He says he sorry on one hand then says no one died, no one got pregnant and no one got divorced so everything is all good. We end with the ultimatum from Katie. She gave Tom 6 months to propose or she was moving on. It's been 5 months and 3 weeks. Tom pulls out a ring slips it on her finger and asks for an extension to be his girlfriend until he gets the balls to propose. Lisa says not to pressure him. They think this time when he says it's coming it actually is. I'm pulling for these two. I genuinely like Katie and Tom and want them to be happy!  Everyone is given one last shot at Stassi since this looks like it will be her last year, but then it always looks like her last year. Ariana gives her credit for pushing Kristin to let things go, but Lisa is done with Stassi. She things she did everything to help her this season and got nothing but disrespect for it.
It's a miracle any relationship make it through his war zone, but Lisa is proud of her staff and we get to watch them all try to destroy each other again next year! Was the last part of the reunion what you thought it would be?  Comment below and let me know. Don't forget to check out ourBRAVO page for Jon's Audio blogs where we get the inside info right from the cast. You won't want to miss it, plus all our written recaps and audio blogs for all the BRAVO shows are there. Don't forget to check out all our coverage on Survivor, The Amazing Race, RuPaul's Drag Race , Hell's Kitchen andThe Bachelor. If you really love our content and want it to continue consider donating to our Patron campaign. Even as little as a dollar a month would really help us to continue to bring you all our content for free. Another way you can help us is by using our Amazon link to start your online shopping. It costs you nothing but we get a little big back.