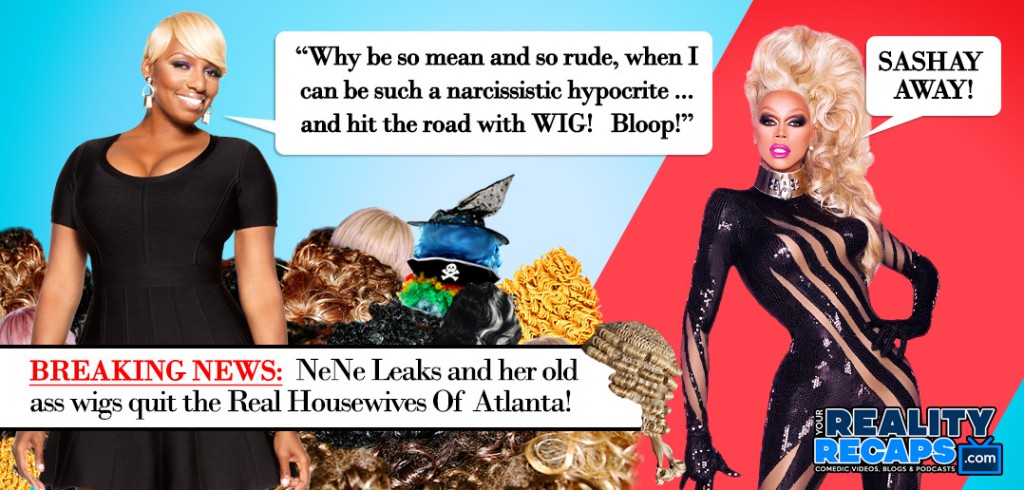 As RuPaul said on WWHL:  "NeNe Leaks is my least favorite drag queen"!   Coming off the heals of a scathing lashing from Ru on Watch What Happens Live, and a reunion we hear she walked on out…  is NeNe loosing fan appeal?  Is she really leaving RHOA?!  Between Bravo announcing yesterday that she officially has a spin off show with Kim, her cryptic tweets, and a land fills worth of wigs moving cross country…. I say yes!  But before we say, "Bye Girl"… lets think about this:
This season of RHOA has not been without drama. Who was at the center of it all? Why NeNe of course. Her relationship with BFF Cynthia is no more, her hatred of Kenya seems to have grown and she even found issue with new comers Demetira McKinney and Claudia Jordan. The only two she was friendly with all season were Phaedra and Porshe, with NeNe really only tolerating Kandi. Sure there were a few fake attempts at reconciliation that never went anywhere, including a therapy session with Dr. Jeff that NeNe set up and walked out of. With no one seeming to be able to co-exist with the Queen B of RHOA it makes us wonder; Are NeNe's days numbered? Ask me a day ago and I'd say never! They'd replace the rest of the cast before letting NeNe go BUT  now I'm not so sure.
Every week the ladies are supposed to write a short blog on their perspective of that weeks episode for Bravo to post on their website. The ladies of
Atlanta are notoriously late on posting these, with NeNe being the worst. On her website www.NeNeLeakes.com she has posted a "want ad" looking for bloggers to blog her last 3-4 episodes. She's asking them to blog as themselves stating she'll post whatever they write about her as long as its fair. So in reality she'll post nothing about herself because she never feels she does anything wrong! Is this the latest way NeNe is distancing herself from the show. Stating health issues plus work commitments she didn't attend the the group trip that airs as the season's final episodes. Really she didn't go because it was on the heels of the disastrous Dr. Jeff sessions. With the reunion episodes already filmed, the timing of this ad is very suspicious. Will this be the last straw for Andy Cohen, creator of the housewives franchise? Has NeNe burnt her last bridge with BravoTV. I, personally, thing RHOA will be better without her but what do you think. Comment below and let me know if you think RHOA needs NeNe Leakes?
Don't forget to check out our BRAVO page for all our recaps on all the Bravo shows plus Jon is reading you the ladies blogs and giving you his take on the weeks events. ALSO we are covering HELLS KITCHEN, Survivor, Amazing Race, RuPaul's Drag Race and KING OF THE NERDS so check out their pages to keep up on what's happening. Head over to AMAZON.COM to do all your online shopping. You'll get all the same great prices and it will also help us to continue to bring you coverage of all your favorite reality shows.