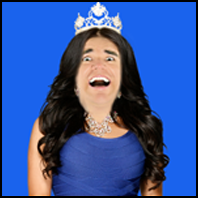 Hey everyone Jon here!  It's time to grab your butt spray and meet the ladies of Bravo's newest show Game of Crowns.  We are so excited to be an Exclusive Bravo Insider bring you news on the ladies you will not find anywhere else.
Game of Crowns premiered last night following the premiere of The Real Housewives of New Jersey. This show focuses on six ladies competing in local and national beauty pageants.  If you think Game of Crowns cannot compete with Bravo's Housewife franchise, you need to check yourself, because these ladies start to throw it down at the end of their first episode.   Let's take a moment and meet our lovely ladies.  Then starting next week I will be doing comedic mashup recaps of the show and reading the ladies bravo blogs!  
Vanassa Sebastian hails from Ledyard, Connecticut and is Certified Registered Nurse Anesthetist and Advanced Practice Registered Nurse by day and the former Mrs. America winner and pageant contestant by night. She describes her life as that of a "Native American fairytale." Being a registered Native America Indian from the Passamaquoddy Tribe and carries on the tradition of a culturally rich heritage. Vanassa hit the jackpot in more ways than one when she married the love of her life Brian (also Native American), who along with his family owns one of the world's largest casinos, Foxwoods Resort & Casino. They have a 24-year-old daughter, Tyah Marie together.
Lori-Ann Marchese,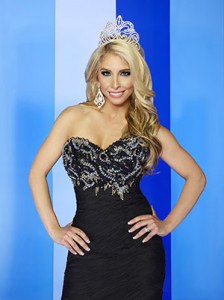 is a fitness consultant/trainer, fitness cover model and owner of Body Construct LLC, residing in Berlin, Connecticut. When she is not training others Lori-Ann competes in fitness pageants (including World Beauty Fitness and Fashion Championships), interviews professional athletes on red carpets, and models for fitness magazines, workout videos, infomercials and more.  She enjoys giving back by helping the homeless in her local community and creates drives at her gym collecting toys, school supplies, food and more. Lori-Ann and her husband John have one dog and two cats.  Lori-Ann's titles include Miss Bikini Fitness America New York, Miss Bikini New England, Miss Model Fitness America New York, Miss Bikini Fitness Atlantic WBFF Pro, Miss Summer Nationals.
Shelley Carbone boasts many impressive titles, but her most valued are "mother" and "wife." The blonde beauty lives in Wethersfield, Connecticut with her husband, John, and their four children: Clay, 14, Mia, 12, Madilyn (Maddy), 10, and Trey, 7. Shelley attended Baystate Medical Center, School of Nursing, and is a registered nurse. She fell into pageantry when her mother secretly registered her for the Mrs. Connecticut America pageant without her knowledge or consent. The pageant natural won Mrs. Connecticut America 2010 and went on to win Mrs. America 2011. Shelley is passionate about health and wellness and utilizes her "voice" given to her through pageantry to encourage others to make healthy choices.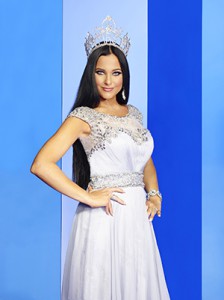 Susanna Paliotta is the former Mrs. Nations USA and Mrs. Massachusetts Perfect Woman. She is the current Mrs. Rhode Island United States and looks forward to nationals in July when she and fellow cast member Lynne Diamante will compete at the nationally televised Mrs. United States Pageant in Las Vegas. Hailing from Johnston, Rhode Island, Susanna Paliotta is a successful entrepreneur, business woman, author, pilot, and more. She married a successful construction entrepreneur Antonio and has two daughters: Victoria, 21 and Isabella, 7. Susanna became a strong anti-bullying advocate after almost losing Victoria in a horrific teen bullying incident and vows to help others through her story and the Stop, Think, Feel Pledge. Daughter Isabella is a star in her own right as a model, actress, singer and pageant champion.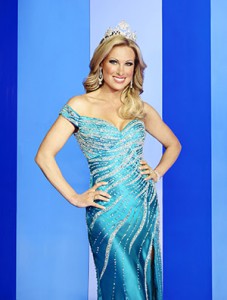 Leha Guilmette lives in Cranston, Rhode Island with her husband of eight years, Nick, a police officer, and their two children, Nicholas, 8 and Sophia, 3. Her full-time job is an account manager and recruiter working with several Fortune 500 companies. As if that was not enough of a competitive culture, Leha also competes in beauty pageants. She took a break from pageants to focus on her job and raising her children, but returned to pageants after a 70-pound weight loss with the goal of empowering women to step out of their comfort zones one stage at a time.  Having won her first major state title as a teen to most recently being crowned Mrs. Rhode Island America, she is determined set big personal goals and dream even bigger!
Lynne Diamante
from Cranston, Rhode Island has mastered the art of having it all. She is a pageant-lifer who is known for her signature blue hair tips, a color she settled on after trying hot pink, lavender, lime green and tie dye. She is a former Miss Rhode Island USA and proudly represented Rhode Island at the Miss USA Pageant in 1991. Lynne is the CEO and founder of OPTX Rhode Island, a luxury sunglasses and eyeglasses retailer, and is an attorney, with the distinct privilege of being admitted to practice before the United States Supreme Court Bar and the U.S. District Court. Lynne travels the world with her husband Giulio and 11-year-old daughter, Giulia. Lynne and Giulio, who is an eye surgeon and ophthalmologist, have renewed their wedding vows 15 times in their 16 year marriage, most often in Las Vegas.
Game Of Crowns airs every Sunday, on BravoTV at 9:00PM EST (right after RHONJ) so make sure you tune in and live tweet with us for the east and west coast airing!
I am dying to hear what you thought of the premiere episode of Game Of Crowns!  So comment below and let me know … your questions and comments could make my show or podcast!  And if you like what we do here,  you can always make a donation via pay pal or become a patreon to get exclusive content and help support our shows.  You can also start your online shopping by clicking on the Amazon ad in the side bar.  You pay no more money and they continue to sponsor us.  A great free way to support us is simply to follow us on social media (icons in the side bar too) and then like, favorite, thumbs up, comment on and most of all SHARE our content!  It's thanks to your support and donations that we can keep providing you with all the content weekly and we are so grateful for your support.
Don't forget if you want to hear the audio blogs from your favorite Housewives read to you and EVEN more content from MANY other Bravo shows then check out our BRAVO PAGE for vlogs, blogs, comedic recap shows and the bravo blogs read to you!  Ok, so now really comment below and let me know what you think of this premiere episode of Game Of Crowns!