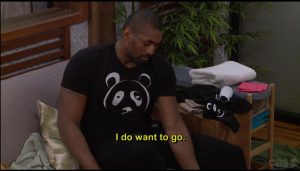 We see that Metta asked to leave the game, and by doing so, it lets Omarosa get no blood on her hands, and it saves Brandi, which I think Omarosa recognizes is helpful to her game. In DR, Brandi tearfully says that Metta leaving saved her. She says she loves him so much. He's crazy, and how do you not love crazy? Omarosa didn't want Metta to go because now she is a floater, so she has to ingraciate herself to whoever is in power.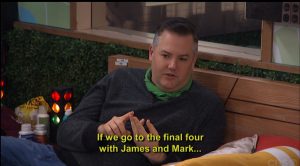 Ross talks Marissa into forming the F4 alliance with James and Mark, totally dissing Brandi and Ari. Assholes. Ross, Mark and James try to come up with an alliance with James throwing out lame name after lame name. Rad Sauce? Survivors? They finally settle on Roomie Squad. Stupid alliance name. Ross made a final 2 with Brandi, and he has had deals with everyone in the house. Marissa and Ross are now in 2 final 4 alliances and will go to whichever one gains power in the next HOH.
Ross wants Omarosa out next because she is the only one not in one of his alliances. He tries to bring both sides of the house together to target Omarosa. Ari catches Mark talking game with Ross as she walks through the kitchen, which makes her suspect he's up to no good. Brandi tells her that he must play both sides of the house right now and to trust him. Screaming through my TV at Ari and Brandi: Don't trust fucking Ross or Marissa. They dropped you both like a hot potatoes.
Omarosa tells Marissa that Mark and James wanted her out last week when Omarosa was HOH. Marissa doesn't believe her, and she says she'll ask the boys if it's true since she has a good relationship with them. On the feeds, Ross and Marissa use this information to further their efforts to make Omarosa the target for the week.
For the Red-Carpet Ride HOH, the houseguests must ride a red carpet that twists and turns, making them fall off, multiple times. The red carpet is tightened in intervals to make it easier for them to complete as the competition continues. It's played in two heats with the ladies in the first heat. They fall repeatedly. Brandi manages to win the first heat by "doggy styling" as she puts it in DR. Ari buzzes in next. Marissa is last. For the second heat, the guys go. Ross says in DR that he is throwing this competition because he doesn't need to win it since he's aligned with everyone except Omarosa, who isn't competing as the outgoing HOH. He goes super slow, inch-worming his way to complete the first heat. Mark is the first one across, then James and they both encourage Ross as he "struggles" to complete the first heat.
The 3 fastest times compete in the third heat. Mark's time is only 1:23, James is in 2nd with 1:52 and Brandi is in 3rd with a time of 6:48. Brandi says that she is her alliance's only hope to keep all 4 safe. No honey, you'll be on the block with Ari because Marissa and Ross sold you both down the river. During the third heat, James makes it across quickly but doesn't buzz in. He sees Brandi struggling and encourages Mark, saying he has plenty of time. What an arrogant douchebag James is! He tells Mark he'll get to see pictures of his family and Mark makes his way slowly but surely, buzzes in and becomes the new HOH. It was an arrogant way to show the house that they have a final 2. It was clearly James' strategy to throw it, so he's able to compete in the next HOH.  Immediately after the comp, Mark says on feeds that Brandi and Ari are going on the block. Brandi says that it may be curtains for her this week. We hope not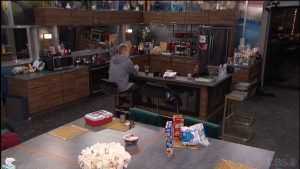 Mark tells Omarosa that he wants to break up Brandi and Ari so that's who he's putting on the block. Marissa and Ross try to tell James and Mark that Omarosa is after them, so she should go on the block. They also tell them about the lie that Omarosa told about Mark and James trying to get Marissa on the block last week. Mark says that Omarosa isn't a bad back up target if either Brandi or Ari win veto. Marissa says in DR that she really wants to save her girls. Then why'd you eff them over with this final 4 deal with James and Mark?
Next, we're "treated" to Mark exercising on the elliptical, saying that he usually does it with music, but he still has music in his head with douchebag James singing about Mark being on the elliptical superimposed on the screen. This is the dumbest thing I've ever seen on BB. When Mark pulls his tank down, James singing image is superimposed over his nipples. I hate these 2 houseguests. One is cocky and arrogant and the other is watching paint dry on the feeds and show.
Omarosa talks about getting to ride on Air Force One. She liked calling her friends from there just to freak them out because an operator places the call and tells them that Omarosa is calling from Air Force One. The strangest thing about it is that she was billed $24 for having a snack, so after that she ate on the plane.
Brandi asks Mark if it was a set up for him to win HOH so that James can play in the next HOH when he can't. She says she gets it; he's Mark's ride or die. Mark is visibly uncomfortable with the line of questioning, but he says that it wasn't planned but worked out organically like that. Omarosa says in DR that she hopes that Brandi keeps running her mouth. Bye, girl. The thing is that Omarosa's only possible hope to win is beside Brandi; she loses beside anyone else.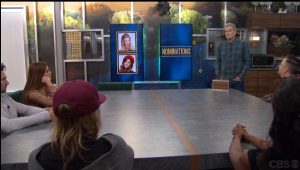 At the nomination ceremony, Mark gives another boring speech, while managing to compliment both Brandi and Ari. Mark says that Brandi is athletic, strategic, competitive and he heard through the grapevine that she's been trying to get him out for weeks. That's BS. He says the same basic thing for Ari but adds that she teamed up with Brandi and that it's time to split up this dynamic duo. Brandi says in DR that this move has James written all over it. He's a D-bag. WE AGREE! Interesting to note that Ross has his back turned from both Brandi and Ari during the whole nomination ceremony. This is what happens when you work as a team with 4 people for the whole game and then change teams at the end of the game. You come off looking sleazy, Ross and Marissa. On the feeds, we see that Ross made a F2 with Brandi that they've kept until now, and he's turning his back on his friend from before the show, a friend whom his partner Salvador styled for years. Wonder if that means Salvador is her stylist when she learns what Ross did to her?
Before you go, please comment below. What do you think of the celebrity's game play this season?
Enjoy Eric's nightly comedic shows on YouNow with Celebrity Big Brother tea served piping hot. Former Big Brother houseguests will join him during the season. Next week, there are 3 guests lined up that you won't want to miss. Make sure to FAN him on YouNow. Follow him on Twitter @RealityRecaps. You can follow me @rebeccakayj.
There is going to be SO MUCH to keep up with this season at a much faster pace!  So make sure you follow us on TWITTER and check our Celebrity Big Brother page daily for updates!  Of course if you wanna watch the action and drama play out live then GET THE FEEDS FROM US.  It's a great way to support us!  Just CLICK HERE to get them now!
AND DON'T FORGET… we are doing YouNow shows all season when the feeds go down so make sure you BECOME A FAN there!  We will of course be doing recap shows and interviews too!  Whenever something goes down on the feeds we will get on social media via YouNow or Twitter to discuss LIVE with you!  We will also have recap blogs after every episode and speaking of episodes we will also be live on YowNow live tweeting during them!   Still want more?  Then become a Patreon for EXCLUSIVE content, giveaways, access to reality stars and become a member of the private Patreon group! 
So in order to help support us in our coverage of Big Brother this season please consider: Getting the live feeds from us here or becoming a Patreon, making a pay pal donation.  Of course we get it, money can be tight… so if you'd like to help us for free then be sure to subscribe to our shows in YouTube, iTunes, YouNow, and thumbs up and give us a nice review (we want to win a podcast award this year). Also following us on your favorite social media site (by clicking the icons in the side bar) and then sharing our content there is also a great way to help as well! We can't thank you enough for enjoying our shows these last 8 years,hopefully with your support we can continue to do them for the rest of the year.  You could also see what specific help we need by checking out our HELP US page HERE!  We can't thank you enough for all your support!  We love you all!