WATCH THE COMMERCIAL HERE… THEN SEE BELOW FOR ALL THE INFO!
QUE THE ROCKY THEME SONG….
CBS Interactive today announced the official title and premiere date for the upcoming digital edition of BIG BROTHER. Developed exclusively for
CBS All Access
, the CBS Television Network's digital subscription video on demand and live streaming service, BIG BROTHER: OVER THE TOP will begin streaming live on Wednesday, Sept. 28, at 10:00 PM ET/7:00 PM PT. Julie Chen is the host.
CBS All Access subscribers get full access to Big Brother: Over the Top
– New season starts 9/28/16
– Season will last 10 weeks
– Online only through All Access ($5.99/mo – US-only)
– Can be viewed on your TV through certain devices
– Weekly eviction episodes Wed @ 10PM ET (7PM PT)
– No blackouts. Live competitions
– game-changing viewer votes
– on-demand episodes + live evictions
– 24/7 live feeds + fan chats
– diary sessions, daily downloads and more!
If you want to support us and our shows then consider GETTING THE LIVE FEEDS FROM US HERE.
BIG BROTHER: OVER THE TOP will welcome an all-new cast of Houseguests to the BIG BROTHER House in a 10-week season that reimagines the BIG BROTHER format for multi-platform audiences. Fans will have more opportunities to engage with the Houseguests, while also having access to all the BIG BROTHER interactive features they love – 24/7 live feeds, chat and impact votes, plus a weekly one-hour episode with live evictions and more.
"We are very excited to embark on this new adventure for BIG BROTHER," said Executive Producer Allison Grodner. With the unique streaming format, not only will viewers get to see everything play out live, including ceremonies and competitions, but the audience will also participate in the show like never before. Each week will offer unprecedented interactive opportunities that will have an immediate impact on the game."

WHAT WE KNOW:  In addition to the CBS All Access edition this fall, BIG BROTHER will continue to be broadcast on the CBS Television Network during the summer.  Additional details for BIG BROTHER: OVER THE TOP will be announced at a later date. However we were already told that THE FEEDS WILL NOT BE CUT FOR COMPS & CEREMONY'S!  I'm super excited about that!  And if you watched any of our BB18 pre-jury interviews you know one of them is hinting they may be on the new fall edition!  The season will be 10 weeks long, which is shorter than the recent seasons but about the same amount of time as seasons such as BB10.  The prize is rumored to be $250k!  And Julie will still host shows about it once a week.  And if you want us to be able to cover it, I hope you will consider supporting our shows HERE.
So what to you think?  Do you like the title of the season?  Are you excited for the feeds (that you will get from us)?  Sound off in the comments section below!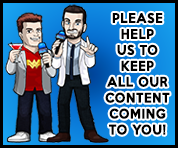 So in order to help support us in our coverage of Big Brother this season please consider: Getting the live feeds from us here or becoming a Patreon, making a pay pal donation, or starting your online shopping by clicking the ads in the side bar to the right like with Amazon. Those are all great ways to financially help us as well. Of course we get it, money can be tight… so if you'd like to help us for free then be sure to subscribe to our shows in YouTube, iTunes, YouNow, and thumbs up and give us a nice review (we want to win a podcast award this year). Also following us on your favorite social media site (by clicking the icons in the side bar) and then sharing our content there is also a great way to help as well! We can't thank you enough for enjoying our shows these last 4 years, hopefully with your support we can continue to do them for the rest of the year.  We can't thank you enough for all your support!  We love you all!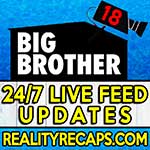 We also have a BRAND NEW TWITTER ACCOUNT which we will be using solely for our Live Feed updates.  It's a great way for you to find out what is going down as it happens 24/7 on the live feeds!  We wanted to keep it separate from our MAIN TWITTER ACCOUNT which covers all our shows because we love you and don't want to fill up your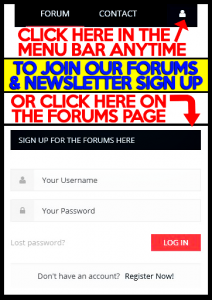 timelines!  Plus we will be posting news, gossip and spoilers there about BB18 exclusively too and we don't like to spoil on our main twitter account.  Now while twitter is a great way to get your 140 character live feed updates sometimes you just need more details!  Which is why we suggest you also join our forums!  This way you can get info like the exact cameras and flashback times for the updates we are giving you, plus interact with other fans!  You can also get special prizes and all the latest info by subscribing to our monthly newsletter (WE WON'T SPAM YOU) when you sign up for our forums.  Its easy and free (just two simple steps) by clicking the little man all the way on the right of the menu bar (or in the sidebar on our forums page).  Just make sure you click to subscribe to newsletter when signing up for the forums!  Of course can do all of this for you because of your generous support.