Last week Big Brother left us hanging in the middle of the HOH challenge. But before that all went down
Tim had some explaining to do. Cassandra had been expecting a 7-4 vote in her favor so now she is on a mission to find the hinky vote. He tells her that he was sure she was safe so he was willing to gamble with her life to see the lengths Loveita would do to make Joel vote for Cassandra. They show Loveita with Joel prior to the live show trying to pressure him into voting Cassandra, to the extreme where she wouldn't even let Joel talk to Cassandra. Her pressure didn't work though and Joel did decided to go against her for the second time and vote out Christine.
It looked like Mitch and Joel were in an early lead in the Locked Lips challenge. This is by far one of my favorites to watch play out. Trevor Boris is a competition genius! Funnier then the challenge itself is how the random draw worked out. Where you have arch rivals and alpha dogs Jared and Dallas together. Kelsey is paired with Ramsey who she admits has barely spoken to. I'm not sure she even knew he was in the house. Then you got Raul paired with Cassandra. He is totally grossed out at even the thought of his lips coming into contact with hers as she almost swallows the ball. The three in front are Maddy/Tim, Dallas/Jared and Mitch/Joel. Ramsey doesn't even want to think about Kelsey becoming HOH so he's throwing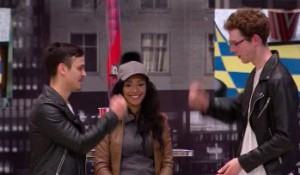 the challenge and the height difference between Phil and Nikki makes this all but impossible for them to win. In the end its Mitch and Joel that win the challenge.  THANK JESUS! With either of these to as HOH I feel pretty comfortable my favorites are safe. Now they need to decide who will be HOH. These smarty pants decided to predetermine the outcome of a rock, paper scissors game to allow Joel to be HOH. Mitch just isn't ready to expose himself just get so it's best to let Joel (who he can somewhat control) do the dirty work. So Joel is our new HOH. The middle will now be forced to choose which alliance to target.
Now that Joel is HOH Kelsey and the rest of her gang feel pretty safe with Joel. You got to love the Big Brother foreshadow. NEVER EVER feel safe in the game. It will be your undoing! Joel is deciding what  to do. He has options. He can go for Third Wheel which is obvious. He can target Dallas and his gang or he can go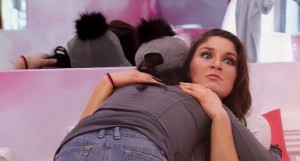 even crazier and try to take out Tim.  Tim tries to explain himself to Joel. He said his vote was to create doubt between the two sides and protect the middle. If the two alliances are fighting each other they won't even be thinking of everyone in the middle of the house. His vote was also to try to dispel and thinking he was involved in a showmance. Cassandra and Loveita are in the 19199 room trying to work out their issues. These two should just not talk. Loveita wants to move on but Cassandra needs her to stop being so weird and to stop making faces at her. When Loveita brings up you make faces at me two, she responds with that's me, I'm different!. What! So I learned here that Cassandra can be a bitch, but no one else can. OK Good to know going forward.
It's time for the Have Not competition. These comps get better and better every time. This time Trevor came up with a baseball themed competition. Fun Fact: He came up with this idea during the Blue Jays run to the playoffs and dreamed of doing it in the Rogers Center. I think we should try to make his dream a reality. Don't you? The backyard is divided by a wall. The teams are the Blueberries  ( Mitch, Cassandra, Tim, Kelsey, Jared and Raul) and the Red Rockets (Dallas, Maddy, Ramsey, Nikki, Loveita and Phil. One team needs to hit their ball to the other side where the other team (dressed as life-size catcher's mitt) need to catch it. If it doesn't make it over the wall or the other teams catches it it's a strike. It's a point if they miss. The team in the lead after 5 innings are the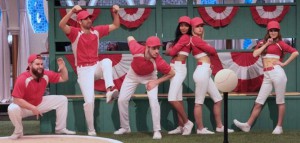 Have's for the week. Tim and Nikki never having played baseball suck at this challenge. At one point Tim gets so mad he throws his bat over the wall and ends up hitting Maddy in the leg. She's OK but Tim feels really bad. Unlike our HOH challenge the teams are by alliance with the middle scattered among them. It was no contest that the Red Rockets took it with a score of 6-2. They get to save two of the Blueberries and they choose to save Mitch and Cassandra, saving her from her third straight week of slop.
Joel's decision is becoming harder for him to make. He's determined to make a smart decision. A fight in front of everyone between Jared and Dallas has cemented that one of the two sides of the house has got to go. Mitch and Loveita are by his side helping him when Raul awkwardly interrupts sending them all away. Kelsey joins in after. In Mitch's mind he knows he's good with 3rd Wheel, better than he is with Dallas and crew but 3rd Wheel will be harder to split up. They won't turn on each other. Loveita and Dallas  also campaigned
for the 3rd Wheel to go up despite the deals they made the week before. His short list becomes Kelsey because she's a strong competitor, Raul for his strong social game, Dallas because he's top dog of the other side and has ruffled feathers and Maddy because she's hasn't talked game to him and he doensn't have a lot of trust with her. In the end he decides to take his shot at  The Third Wheel. Joel nominates Kelsey and Raul. So much for feeling safe Kelsey! Will one of these two win the veto on Wednesday? Jared hasn't been on anyones mind if  Kelsey or Raul win the Veto could golden boy Jared end up on the block?
Comment below and let me know what you thought of Joel's nominations. Where they even Joel's or where they Loveita  and Mitch's? I want to hear what you have to say!
OTHER IMPORTANT BBCAN4 INFO 
Get The Scoop On The Latest Big Twist HERE
See How To Watch From Anywhere RIGHT HERE!
Our Live Recap Show & Interviews Will Be Fridays At 7PM On YouNow