Now that the Threekshow has been revealed they are on damage control mode. Joel trying to prove to Kelsey and the Bros he is not aligned with them. With Cass and Tim sitting on the block the only chance the
Threekshow has at survival is a Joel Veto win. In Tim's own words this is going to be  tough week for the alliance. Like pushing a turd up a hill. Considering this alliances forte is social and not competition wins having to win out is extremely stressful, especially for Joel.  They have come up with a fool-proof plan, Joel needs to convince everyone to throw him the veto. He goes the emotional route. I just want to win something on my own,  I need to prove I can do something he tells them all trying to get pity from them all and it has pretty much worked. He promises that he'd never use the Veto if he won it and everyone seems to believe him.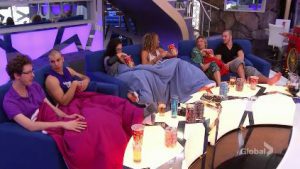 Joel gives us some much needed laughter in this episode has he jams out to Kelsey's Ipod. After passing up numerous songs he settles on Call me Maybe by Carly Rae Jepson and gives us a little lip sync show. Such a good one in fact that production opened their wallets and bought the song to use for us on the show. I am totally obsessed. To check out Joel's Jam yourself click here!  The house guests are also given a small break from the game and are allowed to watch an episode of UnReal courtesy of Shomi to get pumped for their next Veto competition.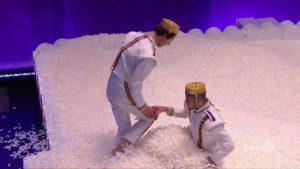 Joel prepares himself for the Veto competition by working out.  He is determined to win it. Nick gives Phil a pep talk in the shower. In this Veto sponsored by Shomi they need to dig in a big box of popcorn for movie titles to a Shomi play list. Last one standing in each round is eliminated and gets to choose the next playlist. Not only do they need to remember the titles but the order they were in and each round has more titles in it. The future of the Threekshow rides on Joel here. Cassandra is out the first round. Kelsey and Phil is helping Joel find cards in the pile popcorn. It doesn't escape Tim's eye that Joel is working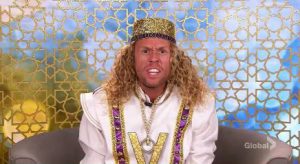 very closely with Phil. Kelsey is eliminated next and Tim spots Joel hand a card he's about to bring back to his board to Phil. Is Joel still with him? Has he went to the other side? Tim can't afford to place all his cards on Joel now that he is uncertain and decides now that he has to win this to secure himself. Joel is eliminated in round 3 and it's Tim vs Phil in the final of 10 Titles. It comes down to the last card and a race for the board. Tim makes it back first and Tim has won the Power of Veto.
Tim now feels the Threekshow is over thanks to Joel's behaviour in the challenge. The beast has been woken up in Tim. No more alliances, He's a lone wolf now. Cassandra is hurt and angry that Tim would turn his
back on her now.  Joel always was loyal to them but he can't convince Tim of that. To try to save Cass, Joel pleads to Kelsey to put The Brothers on the block. He'd vote Cass out, Tim would vote the Brothers out and Kelsey is the tie breaker and Cass goes home. He has no intention of saving the brothers but lying to Kelsey is the only move to play right now. At the Veto meeting with a pretty epic speech Tim pulls himself down and tells Cassandra that she has to work to get herself out of this sticky situation, her fate is in her hands. Kelsey then chooses to stay loyal to the brothers and Joel is put on the block with Cassandra.
Beauty and the Brains are on the block and Tim has washed his hands of everyone in the game. The two friends have no choice but to campaign on each other. Joel wrestled with self eviction all week. Was it an act to get sympathy to stay or was it him making himself the sacrificial lamb to save Cassandra's game. Cassandra
goes to work on Kelsey. Trying to get her to sway to evict Joel. She needs Kelsey on board because she controls the boys. She massages Kelsey's ego. She took out Jared so she could have her all to herself, I have no alliance, but we've been friends the whole game. Anything that she thinks Kelsey needs to hear she is saying. Kelsey is resistant at first. When Joel brings is plan to self evict, Cass get worried. Game aside she puts her friend hat on to make sure that Joel is OK. The friendship with these two share a moment bonding over being the weirdos of the house. She tells him she'll support what ever he decides. Back to game though Cass knows she can use Joel's weakness against him.
Tim still doesn't want to part of Cassandra's campaigning but can't help but give her advice. What is her use to him. No one believes her. Is she just a goat for him to bring to the end. Cassandra knows she needs
to work on the brothers. Since Jared's exit, Kelsey has replaced him with Phil. Nick is trying to give his brother some advice. Stop the flirting. If you are too close Joel won't believe we'll take him to final 2. Phil says he's only doing it to stop Cassandra from getting time with her. Kelsey talks with the brothers and Cassandra's mist has gotten in her brain. She is telling them the pit falls of Joel staying in the game. Phil tries to tell her she could never win against Cass and that just make her angry. Cassandra puts her game face on….literally! Waterproof mascara and all. Target one Nick. She pulls out her tears and tells him she hopes they can put everything behind them. She lets Kelsey plant the seeds of doubt about Joel. She watches her seeds grow, watering them when needed. Out on the deck she blows up Joel's game in front of everyone. Now they are faced with the decision. They know Cass lies but Joel has been so stealth about it. The boys tell Kelsey they will do what she tells them to.
We quickly check in on the jury house where things are going pretty well. Maddy hasn't killed Raul yet. Jared walks in much to everyone's surprise, and even bigger surprise is when Nikki follows him not long after. Maddy doesn't seem to happy to see Nikki. She can't even fake it. Jared tells them all how the Internationals flipped on him like a pack of wolves and Nikki reenacts the brothers attempt at self nomination. We also learn that Canada will be Ramsey's jury vote and we get to ask them three questions. To get your question in the running click HERE
Time to get to the vote. Cassandra tells everyone she'll throw the HOH and evict Tim next week if she's kept. Joel decided to drop a bomb. Yes I played both sides but all of you have and lists how everyone has lied and deceived. Only Tim and the Bros vote and with a vote of 2-0 Joel has been evicted from the Big Brother House. Even worse news than Joel being evicted is that the feeds are going down for the season on Saturday afternoon. That will put an end to our BBCAN Live Feed Season. Only 3 more
episodes left and Wednesday will be a surprise eviction to get our final 4 down to a final 3. But first, we need an HOH.  In a game called Earn Your Slot, Big Brother will show on a slot machine wheel 6 players one a time. They players need to guess which POV competition they competed in. The first to buzz will answer. True to BBCAN form we leave on a cliffhanger. Tim answers the first to questions right……..but who will win? Find out on Sunday or what our Live Show tonight at 7pm (links below) where we will spoil at the end because I got to see the whole competition play out last night!
OTHER IMPORTANT BBCAN4 INFO 
HELP US GET TO THE BBCAN BACKYARD RIGHT HERE
Get The Scoop On The Latest Big Twist HERE
See How To Watch From Anywhere RIGHT HERE!
Our Live Recap Show & Interviews Will Be Fridays At 7PM On YouNow