It's hard to believe, but the surprise winner of a mental competition is Derek. He pulled out the win of the Before and After HOH competition, so Daela has control of the house for the second week in a row. UGH! Derek and his beard Kaela are in power again, which basically means that Kaela has her second HOH. #FakeShowmance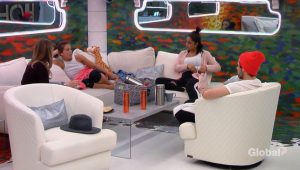 Kaela and Derek have been busy establishing final 4's all over the house. They have one with Ali and Liv and another with Paras and Will. Additionally, they've set up an alliance with Maddy, who Paras and Will want to "carry as far as possible" in the game. (i.e. Maddy is this season's goat. Add in the ability to cry on command and her self-proclaimed super-fan status, and you basically have cross-breed between Big Meech and Victoria.)
After Johnny voted against Will, he lied about it to everyone in the house. Kaela has bragged nonstop about her massive game move to get Erica out. She says that she told Ali and Liv that they either had to vote Erica out or one of them was going on the block next to Will. Such a bitch. I can't stand Kaela.
After a few hours on Thursday night, Johnny felt like he threw his game away by voting to keep Erica, fighting with Kaela and lying to Will about voting Erica out. While everyone already thought he was lying, he came clean with Will later Thursday night. Will said to his face that he forgave him, but behind his back, he is saying that he lost trust in Johnny. Will advised Johnny to come clean with everyone about his vote and subsequent lie. He does, and everyone (for the most part) said it was big of Johnny to admit that he lied. He wants to try and rebuild trust with Will and the rest of the house.
Johnny pitches that he is alone in the game now to Derek and Kaela and says that he will work with them. He asks Derek not to put him on the block. Ryan also asks not to be put up for the 4th time in a row. Since Derek and Kaela have formed alliances all over the house, the only ones they don't have an alliance with are Johnny and Ryan, so they are the obvious nominees. Derek noms them.
While Daela has formed final fours with Paras/Will and Liv/Ali, it seems that Liv and Ali are the ones they're planning on taking to the end. People have been comparing notes on what Paras says, and she tells each person that they are her number 1, that she doesn't know who she'd work with if they weren't there, that she feels alone in the game without them, etc.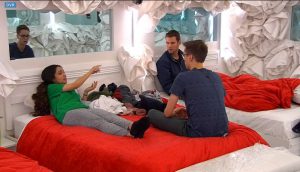 The POV competition involved knocking down targets, and it came down to Johnny and Derek for the win. It was apparently very close until Johnny accidentally knocked down one of Derek's targets, so Derek won the POV. Will and Paras are considering the final 4 with Daela legit. Because of this, while they are stringing Johnny along, they are heavily considering sending him to jury this week.
Derek left the noms the same at the Veto Ceremony. Johnny is putting in work to stay this week, and right now, there is a 50/50 chance that either nom is leaving on Thursday. Again, some people are stringing the noms along, and it won't be obvious until later in the week. Either Ryan or Johnny is headed to jury Thursday.
Just for shits and giggles, please take a look at Derek displaying plumber butt on live feeds. Crack is whack!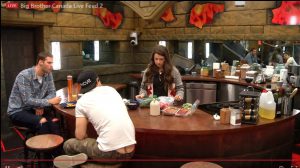 Before you go, please comment below. What do you think of the season so far? 
Enjoy Eric's nightly comedic shows on YouNow with BBCAN6 tea served piping hot. Former Big Brother houseguests will join him during the season. Make sure to FAN him on YouNow. Follow him on Twitter @RealityRecaps. You can follow me @rebeccakayj. If you ever have any complaints or issues, contact @YRR_Cust_Svc.
There is going to be SO MUCH to keep up with this season!  So make sure you follow us on TWITTER and check our BBCAN page daily for updates!
AND DON'T FORGET… we are doing YouNow shows all season when the feeds go down so make sure you BECOME A FAN there!  We will of course be doing recap shows and interviews too!  Whenever something goes down on the feeds we will get on social media via YouNow or Twitter to discuss LIVE with you!  We will have recap blogs after every episode and live tweeting during them!   Still want more? Then become a Patreon for EXCLUSIVE content, giveaways, access to reality stars and become a member of the private Patreon group! 
So in order to help support us in our coverage of Big Brother this season please consider: Getting the live feeds from us here or becoming a Patreon, making a pay pal donation.  Of course we get it, money can be tight… so if you'd like to help us for free then be sure to subscribe to our shows in YouTube, iTunes, YouNow, and thumbs up and give us a nice review (we want to win a podcast award this year). Also following us on your favorite social media site (by clicking the icons in the side bar) and then sharing our content there is also a great way to help as well! We can't thank you enough for enjoying our shows these last 8 years,hopefully with your support we can continue to do them for the rest of the year.  You could also see what specific help we need by checking out our HELP US page HERE!  We can't thank you enough for all your support!  We love you all!