The Final 4 are Daela, Paras and Will. After Maddy's eviction, Paras and Will are verklempt but celebrate making it to final 4 with Daela. Kaela and Paras watch as Will and Derek head upstairs together and comment that the two of them have something together.
When they come back downstairs, Derek says that this is his game to lose as he looks at Will and Paras because they haven't won a single comp all season. Such a cocky prick. What he doesn't understand is their social games meant they didn't HAVE to win a comp to make it to Final 4, which is a compliment to their social games, particularly Paras. Will thinks that both Kaela and Derek will want to take him to Final 3 because they have the comp wins and Paras has had the best social game. Paras recognizes that none of them are taking her to Final 3, so she must win HOH.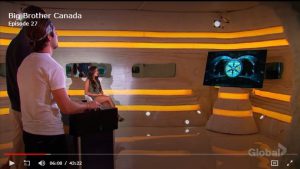 Will, Paras and Derek compete in Legends of the Fallen, where they must solve clues about evicted houseguests as they appear on the screen. Once they know they think they know the answer, they buzz in to guess. If they are correct, they get a point. If they are incorrect, the other 2 players get to buzz in to guess the answer. Paras gets the first question correct. The second question refers to the triple eviction, and Derek buzzes in with only learning the day of the eviction so he guesses and gets it wrong. Will buzzes in and gets it wrong. Paras buzzes in and with only 1 other option, she gets the question correct and says, "Thanks, boys." Will buzzes in on the 3rd question and gets it incorrect. Paras buzzes in immediately after him and gets her 3rd point. Arisa announces that with only 4 questions left, if Paras gets the next questions correct, she will become the new HOH. Will buzzes in and answers incorrectly. After another clue is revealed, Paras gets the question correct and becomes HOH.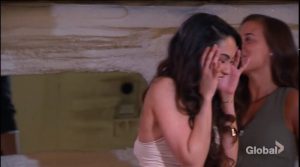 Paras says to the aloud to the rest of Final 4 that she knew if she didn't win that comp, she would be saying bye to her $100K. Nobody disagrees with her. In fact, Kaela smirks. Smug bitch. Paras says in DR that Kaela and Derek thought they were going to win back to back competitions all the way to finale and she just put an end their winning streak. Go Paras! We're not fans of showmances here at Your Reality Recaps, so our hope is that we don't end up with Derek and Kaela in Final 2. Social media has changed Big Brother; the emphasis on showmances by young fans makes producers encourage them during the casting process and in pre-season interviews, particularly on BBUS. Anyway…
After the HOH, Daela discuss that being in Final 3 with Paras isn't ideal. Derek says that he couldn't think fast enough in the HOH. Kaela says in DR that her ideal Final 3 would be her, Derek and Will because she thinks that Paras has played a better game. No shit.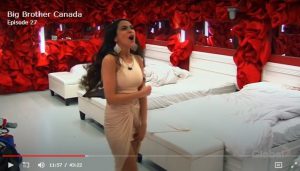 Meanwhile, Paras does a happy dance alone in the red bedroom, and says to the cameras, "I'm final 3. This game is mine." She joins Will in the white bedroom, who says he's so disappointed in himself and his losing streak. He quickly says that he's happy for her. Sure, you are, Will. Kaela joins them and lies to Paras saying how excited she is for her. Kaela points out to Will that there's still a veto that he could win.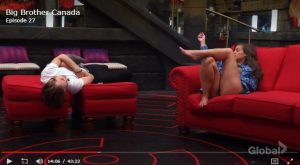 Derek expresses to Kaela that she doesn't have to worry as much as he does because if one of Will or Paras win the POV. He says that he will go home before her. She initially gets a little pissy with him because they have equal comp wins now. Derek says that they'll take him out before her. Kaela realizes that Derek thinks that he's a bigger threat than she is. In DR, she thinks that is perfect because that gives her a better chance to go to Final 2 with him if they move forward to final 3 together and he wins the final HOH.
At Paras' HOH room reveal, the houseguests get a note from BB that they all get to enjoy Wendy's this week. They all enjoy burgers and Frosty's while toasting to making it to Final 4.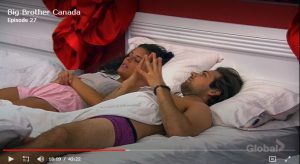 Daela moves back into their bed in the red room. They say that this is where they started at week 1. Kaela says in DR that she can separate emotions from the task at hand, but she didn't expect to like Derek so much. Girl, I wish you could see what we all see. #NoMance If she won't cut him, it's unlikely that she will win the game. Besides that, her #SmugBitch attitude makes it hard to like her. If she's smart, she'll make a Final 2 with Paras and throw parts 1 and 2 of the Final HOH, since she thinks it's likely that either Derek or Paras would take her to Final 2.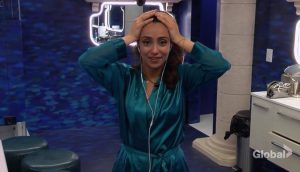 Paras realizes how close she is to winning the game. She talks to the camera and says how happy 11-year-old Paras is to realize this dream. She goes on to say that she is so lucky that her parents immigrated to such a wonderful country as Canada, and she has a blessed life. This edit makes Paras seem like a production favorite. That's not a bad thing, especially if production has any pull with the jury. It certainly makes her a likely fan favorite. She's been the most likely to talk to live feeders, which for the most part has been entertaining, but started getting stale in the last 2 weeks after she, Maddy and Will decided to keep Kaela instead of Ali. Of course, that was a bad decision that led to Daela steamrolling the trio with their comp wins.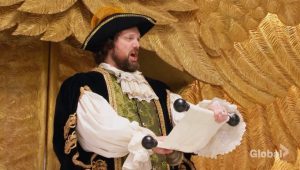 A Town Cryer comes into the house to announce the BBCAN6 Awards. Last year, it was hosted by Nikki, who dressed the final 4 and they had a paparazzi style photo shoot. This year, it's Medieval Times themed. Will and Derek are dressed as a nobleman and a prince, and Paras and Kaela are dressed as princesses. Kaela says in DR how good she looks in her outfit and jewelry. #SmugBitch They are each introduced to go to the dinner by the Town Cryer.
The 4 sit at the banquet table and eat Medieval Times style—without utensils. #BudgetBB Once they finish eating, it's time for the BBCAN awards and a retrospective on the season. The winners of the awards are:
Most epic battle— Will vs. Ryan or Johnny vs. Daela vs. Ali (Winner: Johnny vs. Daela vs. Ali)
Favorite Retching—Liv after About Last Night vs. Will after About Last Night (Winner: Liv)
Favorite Lip Lock—Kaela and Derek vs. Kaela and Veronica (Winner: Kaela & Veronica)
Favorite Strange Duo Moment—The Ding Dongs vs. Will & Veronica take a bath (Winner: Ding Dongs)
Favorite Jester—Paras imitates Liv or Veronica after Will did her makeup (Winner: Paras)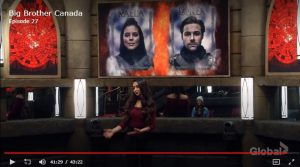 After the awards, Kaela and Derek are clearly the noms since Will and Paras are a duo, so Paras tells us it's all about the veto this week. Paras still must do a short list, which is stupid. She hopes that Will is in Final 3 with her because she can beat him. Derek and Kaela are the biggest threats left in the game. She says as much when she nominates them. Who will win the most important POV of the season and who will make it to Final 3?
Before you go, please comment below. What do you think of the season so far? 
Enjoy Eric's nightly comedic shows on YouNow with BBCAN6 tea served piping hot. Former Big Brother houseguests will join him during the season. Make sure to FAN him on YouNow. Follow him on Twitter @RealityRecaps. You can follow me @rebeccakayj. If you ever have any complaints or issues, contact @YRR_Cust_Svc.
There is going to be SO MUCH to keep up with this season!  So make sure you follow us on TWITTER and check our BBCAN page daily for updates!
AND DON'T FORGET… we are doing YouNow shows all season when the feeds go down so make sure you BECOME A FAN there!  We will of course be doing recap shows and interviews too!  Whenever something goes down on the feeds we will get on social media via YouNow or Twitter to discuss LIVE with you!  We will have recap blogs after every episode and live tweeting during them!   Still want more? Then become a Patreon for EXCLUSIVE content, giveaways, access to reality stars and become a member of the private Patreon group! 
So in order to help support us in our coverage of Big Brother this season please consider: Getting the live feeds from us here or becoming a Patreon, making a pay pal donation.  Of course we get it, money can be tight… so if you'd like to help us for free then be sure to subscribe to our shows in YouTube, iTunes, YouNow, and thumbs up and give us a nice review (we want to win a podcast award this year). Also following us on your favorite social media site (by clicking the icons in the side bar) and then sharing our content there is also a great way to help as well! We can't thank you enough for enjoying our shows these last 8 years,hopefully with your support we can continue to do them for the rest of the year.  You could also see what specific help we need by checking out our HELP US page HERE!  We can't thank you enough for all your support!  We love you all!