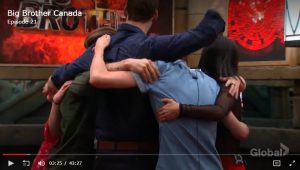 The houseguests congratulate each other on making jury after Ryan's eviction. Johnny thanks everyone for keeping him in the game, but in DR, he says that he's not going to forget that he was a target all last week. Ali says that keeping Johnny in the house wasn't an easy feat. She had to campaign hard for him even though he's a big target. She believes that Johnny will be loyal to her. Kaela says that every single person wanted to keep Johnny, so she had no choice but to keep him. She says that she must win the HOH to ensure that her and Derek are safe.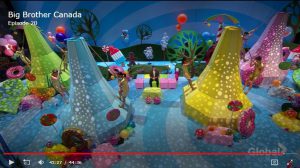 The houseguests complete the Slippery Slope HOH competition. The giant candy slopes that they stand on shoot out watery gummy balls and goop, making staying on the slopes difficult. In DR, Johnny says that he subtly convinced both sides that keeping him was good for their resumes, but he's not forgetting that he almost walked out the door. Johnny played Liv/Ali against Paras/Will, telling each that they would be pulling a power move by saving him. In DR, Paras says that she finally wants to show the houseguests who is really running this game. Maddy is the first to fall, and she cries about it. Of course. Liv falls, and in DR, she says, "Shiza Minelli." LMAO! Next down is Ali. Kaela says that she has no idea who is with her and Derek and losing is not an option. Then, she falls. (YAY!) Only Will, Johnny and Paras are left. Once Will falls, Paras and Johnny promise each other safety and shortly thereafter, Paras falls. Johnny says that rising from the ashes, the butterfly of death has returned.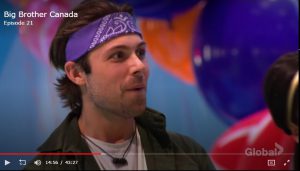 Derek announces that as the new HOH, Johnny must choose 2 Have Nots for the week. Without hesitation, he names Derek and Kaela. In DR, he gives an evil laugh as Derek is surprised that he chooses them. Dumbass, you nominated him last week, and he was your target. Kaela says in DR that she's been on slop more than anyone in the house. Johnny knows that they didn't rally the votes for him to say, even though they acted like they did, and is clearly sending them a message.
After the comp, Johnny gives a half-hearted apology to Kaela. Then, Ali gives him some playful spanks to celebrate his win, and congratulates him, saying this is why they kept him. Ali says that Johnny knows how hard she and Liv worked to save him, and this hopefully puts them in a good position.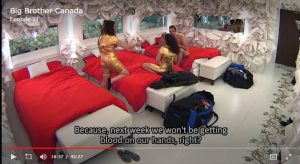 In the white room Will tells Paras that he's glad that neither him nor her has won anything because that means that they won't be getting blood on their hands. They talk about Johnny putting Daela in the catacombs as a big Fuck You to them. Paras says that they need to play like Ali and Liv masterminded keeping Johnny, even though it was both sides of the house. They have to act like they don't know if Johnny is putting them up or not. Maddy points out that for the first time, they get to decide who goes home this week. They all high-five each other.
Daela discusses that Johnny knows they didn't rally the votes for him to say, even though they acted like they did. They realize everyone saved Johnny to send one of them out this week. Kaela says that one of them is going to jury this week. After Johnny's HOH room reveal, Kaela stays behind, and Johnny asks Ali to send Derek up. Johnny tells Daela he heard from multiple people they were pushing for Johnny for go, and only told changed their minds when everyone wanted him to stay. Kaela denies that she and Derek wanted Johnny out, and she says that everyone else wanted him out. Kaela asks Johnny to bring everyone in to the HOH room, so she can call them out. Johnny looks excited to bring on some drama.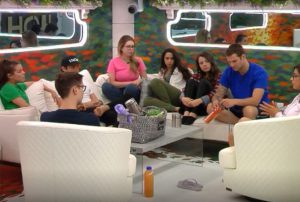 During the house meeting, Kaela throws everybody under the bus. Derek hides behind her while she does most of the talking. #NoMance At the risk of being redundant, Kaela is a #Beard4Derek. Derek says that every person said Johnny's name when he was HOH. Kaela throws Liv and Ali under the bus for telling her things about Johnny and Erica. For the first time, Ali is speechless. Kaela goes on to say that there are some people in the house that she thought would never talk about her, directly looking at Paras. Ali and Liv say that Kaela was more receptive to keeping Johnny than Derek was, which he lies about saying he was always on the fence. Derek is essentially a used car salesman in this moment, except more boring. Kaela tells Johnny that every single person would've put him up this week if he hadn't won HOH. Paras says that she didn't say to put Johnny; Derek vehemently disagrees, saying that she said his name all week. Kaela says that Paras told her that Johnny and Maddy were coming after her. Paras says that she told her that Ryan was the ringleader but admits that she did say Johnny's name. Will speaks up and says that everyone has made deals and broken them. Safe bet: Johnny is wishing he didn't promise safety to Paras right now. Johnny says he wants to talk to Kaela alone, so everyone clears out except Paras. She says she wants to hear what Kaela is going to say about her, so she can defend herself.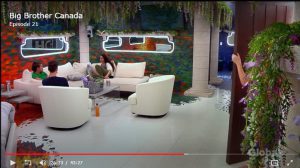 Paras is shown talking to Daela, and Kaela was doing all the talking. Paras really did say it was Ryan's plan, but he convinced Johnny who then convinced Maddy. Paras says that Kaela has it twisted. Kaela is lying her ass off to try and stay off the block. Paras says that she says that it was Ryan's plan, and she doesn't appreciate her throwing her name out to the HOH. She gets up and tells Kaela to keep spewing her bullshit to Johnny. She tells Johnny that she wants to talk to him later and leaves the HOH.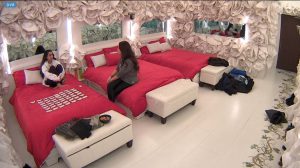 Paras vents to Maddy about Kaela throwing her under the bus, and Maddy says that it was Ryan's plan. Um, Maddy you're forgetting that you threw Kaela's name around, and Paras saved you by saying it was Ryan's plan. Maddy says that Paras has had her back, and now she is going to have hers. Maddy says they aren't going on the block because of Kaela, and she is heated. From this conversation, it seems that Maddy is ready to vote Kaela out.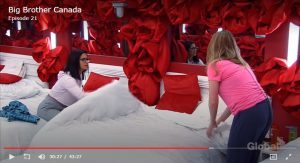 Liv and Ali don't like that the HOH meeting happened because it exposed a lot of people's games, and it wouldn't have happened if Johnny weren't HOH. Ali tells Liv that she thinks that Johnny thinks that the Ding Dongs are playing a good game, and he wants to air them out. She says that now other people won't trust them, and she is instantly regretting saving his ass. He calls Liv and Ali back to the HOH room with Daela.
Johnny says that Kaela told him they were bringing info back from private conversations with Johnny and Erica. Kaela tries to cover for them by saying that Liv and Ali were just giving Daela a heads up. Johnny says that Liv and Ali have been playing him, and it makes him feel stupid. Liv says he's a great example of 1 relationship shifting, which causes you to put eggs in another basked. In DR, Ali says that she is fucking pissed because she put a bunch of work into saving Johnny, and now she is vulnerable with the house. Ali has brought some #TeamFunFeeds this week, but it's awfully short-sighted to say she's vulnerable, when she made Erica go home by tossing her and Johnny's names around. Especially when he's HOH. Ali says that Johnny and Erica were a big threat, and Johnny counters asking aren't Derek and Kaela a big threat? For every punch, Johnny delivers a better counter punch. In DR, Johnny says that now that he knows for sure that the 4 of them are working together, they know it's going to get out to the rest of the house. He wants to sow seeds of distrust and watch their alliance crumble. (Best week of feeds in BBCAN history.)
Paras comes to speak with Johnny next, and she says that she called Kaela out because Kaela thinks she's weak. She goes on to explain that she didn't tell Derek to target Johnny. (She's lying.) She tells Johnny that Kaela wants a target on her back because Kaela's social game is shit. She's not wrong; all Kaela does is lay around talking to Derek and playing with his hair. Would you want to talk game with someone who must constantly touch their showmance? Last week, Derek mumbled under his breath for Kaela to stop fucking touching him. Kaela is the type of girl that needs a guy to validate her—can't wait for her to see that clip! Johnny said that Kaela made some interesting points about Paras, and she isn't the sweet, innocent player that she pretends she is.
Maddy has never been to Wendy's and Johnny thinks they have a similar way of thinking about the game, so they share a meal. He thinks it'll be good to have someone to bounce ideas off and vice versa.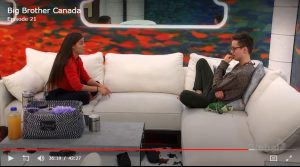 Kaela pitches Johnny compellingly. She says that if Johnny is on the block against Will, Paras or Maddy he is automatically going home, but if he sits on the block next to her, she is probably going because those 3 hate her guts right now. Johnny points out that his best option is for Derek to go home, not Kaela. He obviously must put them up together, so they can't use the veto on each other if they win. Johnny says that Kaela has deals and alliances with everyone except him. She says that she formed something with him and Derek on Night 1. Johnny says that still ended up with my ass on the block last week. Kaela says that wasn't her; it was Derek. When Kaela brings up Paras, he points out that he promised her safety. Kaela says that Paras is playing every single person in this house, and if she gets to final 5, she's making it to final 2, guaranteed. If she does that based strictly on social game, Kaela will vote for her to win in jury. She says that Paras has lied to every single person in this game, so why would it matter if he lied to her? Valid point.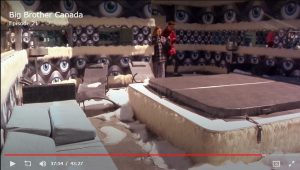 Johnny talks to Liv and says that he doesn't want to put Kaela up. He says that Derek wanted him out last week, and the trio is something. She calls them an entity. He says he doesn't know if he should take out 1 of them to lower their likelihood of winning. Johnny says that if Kaela goes up, she is likely going home, which makes his decision harder. In DR, Liv says that she and Ali didn't keep Johnny, so he'd wimp out last minute. Putting Daela up is the plan they agreed upon.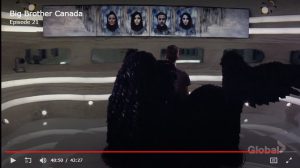 Johnny says that everyone wanted him out last week, so it's awesome to be in power this week. He says everyone has been arguing, trying desperately to save their games. Johnny considers nominating Kaela, Ali, Derek and Paras. Johnny says that Kaela is a comp beast, can lie easily to every person's face, has deals with every single person in the house except for him, and she and Derek were targeting him big time last week. He says that even though Ali was trying to save him last week, he doesn't know if she was trying to work with him or play him. She's shady and manipulative, which is dangerous in this game. Derek made Johnny his target last week, so maybe Johnny should make Derek his target this week. Paras is also up for consideration because she's been playing him for a long time, thinking that they had something special. He sees that she's not the sweet, innocent player that she pretends to be. He says the butterfly wings are ready to flap their wings and shake this house like never before.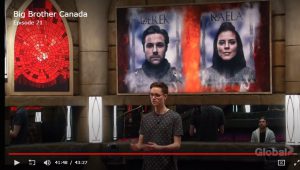 Johnny nominates Derek and Kaela. He says that he is convinced that Derek wanted him out last week, but his reason for nominating him is just revenge. Johnny says that while he wants to believe that Kaela wants to work with him, it's hard to believe considering her many alliances and deals with everyone in the house. He says that they've been expecting to face each other the whole game, so let the showmance showdown begin. Will Derek or Kaela fight their way off the block?
Before you go, please comment below. What do you think of the season so far? 
Enjoy Eric's nightly comedic shows on YouNow with BBCAN6 tea served piping hot. Former Big Brother houseguests will join him during the season. Make sure to FAN him on YouNow. Follow him on Twitter @RealityRecaps. You can follow me @rebeccakayj. If you ever have any complaints or issues, contact @YRR_Cust_Svc.
There is going to be SO MUCH to keep up with this season!  So make sure you follow us on TWITTER and check our BBCAN page daily for updates!
AND DON'T FORGET… we are doing YouNow shows all season when the feeds go down so make sure you BECOME A FAN there!  We will of course be doing recap shows and interviews too!  Whenever something goes down on the feeds we will get on social media via YouNow or Twitter to discuss LIVE with you!  We will have recap blogs after every episode and live tweeting during them!   Still want more? Then become a Patreon for EXCLUSIVE content, giveaways, access to reality stars and become a member of the private Patreon group! 
So in order to help support us in our coverage of Big Brother this season please consider: Getting the live feeds from us here or becoming a Patreon, making a pay pal donation.  Of course we get it, money can be tight… so if you'd like to help us for free then be sure to subscribe to our shows in YouTube, iTunes, YouNow, and thumbs up and give us a nice review (we want to win a podcast award this year). Also following us on your favorite social media site (by clicking the icons in the side bar) and then sharing our content there is also a great way to help as well! We can't thank you enough for enjoying our shows these last 8 years,hopefully with your support we can continue to do them for the rest of the year.  You could also see what specific help we need by checking out our HELP US page HERE!  We can't thank you enough for all your support!  We love you all!