After JC's hinky vote, the house is abuzz with who did it. Tyler is set on clearing his name, and JC doesn't want Tyler blamed. Tyler announces to the house that he's not stupid enough to paint a target on his back when he was told it was going to be a unanimous vote. People are pinning it on Scottie after his rogue vote against Swaggy in a Swaggy C shirt. Sam is stunned to learn that he did that, but Bailey tells her that Scottie admitted it to her. Level 6 and JC meet, and they all think it was Scottie, too. JC is patting himself on the back for creating drama and paranoia in the house.
Time for the Perfect Timing HOH competition: The houseguest must sit on top of their email gliders and slide into the inbox in as close to 8 seconds as possible. Bayleigh is up first and gets a near perfect score of only 8.08. JC is the only one to come close with a time of 8.48. She is excited to be the 'queen of the house' so she can figure out what's going on and regulate. This edit of Bayleigh is not good, but BB used the footage that she gave them, and I'm about to pass some serious judgement. If you're a Bayleigh fan, you may want to quit reading now.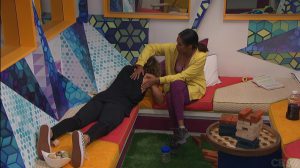 After the HOH comp, Bayleigh talks to Tyler who pretends to be broken-hearted about Kaitlyn leaving. Bayleigh says she knows how he feels, and he needs a week to reset. She also requests that he is loyal to her 'above all others.' She thinks that he's wounded, so she tells him she's scooping him up (to use him for his competition prowess moving forward). Bayleigh thinks that she is the queen of the house. BB uses sound effects as she flips her hair in DR, indicating how entitled she is. I love when BB emphasizes houseguests' negative traits, like Cyborg Cody last year and this year, it's Bitchy Bailey.
JC and Fessy get a mini shout out to their relationship, as BB highlights funny moments between them. It's called The Tall and The Short of It. They brush their teeth together, JC lotions Fessy's back, JC sits on Fessy's back while he does pushups and them cuddling in bed. We've seen the negative shit about JC on by now, and I know even worse things I can't disclose. I hate admitting JC is #TeamFunFeeds. Damn it, BB—you made me not hate the #MinionFucker. (Google it or search Twitter. Is the Minion getting The Tall or The Short of It?)
Bayleigh and Haleigh discuss noms. She says that Brett, JC or even Scottie would put her up. She thinks that Scottie is the one that flipped the vote. She's certain that she's putting up Brett, but she needs a pawn beside him. Scottie talks to Bayleigh, and she says that if he's lying about flipping the vote, she's going to kill him. What you don't see is that she literally made him swear on the Bible it wasn't him. He blames Rachel for JC's hinky vote, which adds a new name to her potential noms. She then tells him that he's crazy, does a lot of weird stuff and she needs him to be 'Team Bay.' She goes off on him for flipping his vote on Swaggy and again says that she will find him and cut him into little pieces if he flipped this week's vote. She says, "I will gut you and lay your intestines out if it was you." She then tells him to thank her and to leave, dismissing him. Straight up psycho C.U. Next Tuesday. Swaggy better run. She WILL "Lorena Bobbitt" him if he even looks at another woman or a female friend calls him.
Next, JC comes in and Bayleigh launches into her pitch that if she doesn't put him on the block he is NEVER going to turn on her, and she tells him that out of everyone, he is the one that is suggested to be a pawn. JC looks hurt, and she tells him that everyone loves him, but she wants to make sure he isn't making promises to everyone in the house. She wants him to be loyal to her above Fessy and everyone else. JC says in DR that she is crazy if she thinks he wants to work with her after she starts off like that with him. HOHitis is off the charts. JC talks his way out of being a pawn and quickly leaves.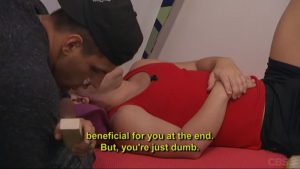 JC is upset after his talk with Bayleigh. Fessy talks to him and explains that no one knows where his head is at, and the only reason he'd be a pawn is because he wouldn't go home. He explains that he is trying to keep his ass off the block. JC says that everything that he's told him about his game has been for his benefit. JC asks him to talk to Bayleigh again for him, and they end up jokingly calling each other dumb.
Fessy talks to Bayleigh and says that having a loyal JC is much better than having a loyal Rachel. He agrees that Brett should be one of the nominees. Bayleigh argues with Fessy that JC is loyal to him, not to her. She bitches about JC never promising her undying loyalty or telling her that he wants to carry her far into the game. She says that JC is bossy and Fessy is the only one sticking his neck out. She says JC gets on her last nerve and tells Fessy to keep him in check. He's bossy!?! Pot meet kettle.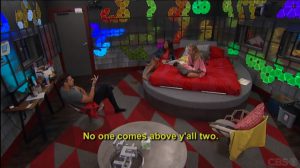 Before noms, Haleigh is being talked at by Bayleigh, who is again bitching about Fessy taking up for JC. The rest of Foutte is outside the HOH room, where her highness gets up and tells Fessy, "You! You! Get in here for 5 seconds then you have to get out again." She's so fucking rude. She tells him that her filter only comes off with him and Hailey. She tells him 'not to ever in his life say anything she's doing is a bad move.' She's an over-dramatic entitled asshole. Fessy says he never said that (correctly), and she insists that he did. Bayleigh calls JC 'little' 3 times in a row before finishing with Tasmanian devil. She and Haleigh go in on Fessy only needing to be Team Hay and Bay. Fessy gets pissed (rightfully so) and tells Haleigh he doesn't need them questioning him when he was laying out pros and cons for JC verses Rachel. Bayleigh says in DR that Fessy is on her last nerve being Team JC. This is her HOH, and what she says goes.
Bayleigh calls Rachel up to HOH room, and talks about needing to get Brett out. Haleigh tells her that she needs her to be a pawn. Then, she does the dumbest move ever and tells Rachel about her Power App, thinking that this will build trust with her. She also tells her Scottie is blaming her for the hinky vote. Rachel is pissed and says that Scottie did it. Bayleigh indicates that she thinks she needs to backdoor Scottie rather than give him a chance to play in POV, and she'll protect Rachel if she goes up as a pawn. Finally, BB airs Bayleigh's pig noise sound that she makes with her nose on feeds. She needs a Nettie pot badly.
At the nomination ceremony, Bayleigh nominates Brett and Rachel. She says that putting Brett up is bloodless since he's already been on the block, and she nominates Rachel because they haven't talked game. She says that her nominations are strictly strategic. Afterwards, Bayleigh says that nobody should feel safe because she hasn't ruled out putting anyone on the block. Fessy is happy he kept JC off the block. Brett says that Bayleigh just declared war on him, and he's not going home. Both Brett and Rachel say they will win the veto.
Before you go, please comment below. What do you think of the season so far? 
Enjoy Eric's nightly comedic shows on YouNow with BB20 tea served piping hot. Former Big Brother houseguests will join him during the season. Make sure to FAN him on YouNow. Follow him on Twitter @RealityRecaps. You can follow me @rebeccakayj. If you ever have any complaints or issues, contact @YRR_Cust_Svc.
There is going to be SO MUCH to keep up with this season!  So make sure you follow us on TWITTER and check our BB20 page daily for updates!
AND DON'T FORGET… we are doing YouNow shows all season when the feeds go down so make sure you BECOME A FAN there!  We will of course do recap shows and interviews too!  Whenever something goes down on the feeds we will get on social media via YouNow or Twitter to discuss LIVE with you!  We will have recap blogs after every episode, spoilers blogs, feeds updates 24/7 on Twitter  and live tweeting during them!   Still want more? Then become a Patreon for EXCLUSIVE content, giveaways, access to reality stars and become a member of the private Patreon group! 
So in order to help support us in our coverage of Big Brother this season please consider: Getting the live feeds from us here, a Patreon, making a pay pal donation.  Of course we get it, money can be tight… so if you'd like to help us for free, please subscribe to our shows on YouTube, iTunes and YouNow, then thumbs up and give us a nice review. (We want to win a podcast award this year.) Also, follow us on your favorite social media site (by clicking the icons in the side bar) and share our content. It's a great way to help! We can't thank you enough for enjoying our shows these last 8 years. Hopefully, with your support, we can continue to do them for the rest of the year.  You could also see what specific help we need by checking out our HELP US page HERE!  Thank you for all your support!  We love you all!