We are talking about Scream Queens, American Horror Story Hotel and I threw in a "fan show"  ending this week. Scream Queens is Glee meets American Horror Story, two of my favorite shows. Speaking of, we also recap AHSHotel during this show too!  So join us each Tuesday at 7pm EST as we recap these new shows on YouNow!  By joining us live you can become part of the discussion and the fun, or you can watch the archived versions right here after!
We are also recapping Surivor 31:Cambodia and Bravo Shows this season so you aren't going to want to miss those shows either! We are also interviewing all the BB17 cast members every Thursday, so check out our Big Brother 17 page for all those amazing shows.  Finally on Fridays we do a fan show where we talk all things reality TV and bring you on as guests!  So check all that our on our YouNow page live and backed up here on the website.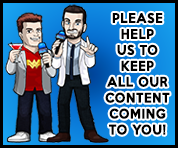 Do you like what we are doing this season?  Then PLEASE help us keep doing it!  The best way to do that is to become a Patreon!  Our patreons are what keep our site up and running.  You simply pick a month amount you want to donate (even $1.00 help) and that's it!   Plus Patreons get access to a SPECIAL PATREON ONLY FACEBOOK GROUP & PATREON ONLY SHOWS!  If you'd rather just do a one time donation you can use PAYPAL instead.  We appreciate ANY financial support you can give.  Like online shopping?  The use our Amazon link in the sidebar to start your shopping with them (you don't pay any more and we get a little back).  Or if you are interest in any of the ads in the side bar to the right check those out too.
Of course we get it, money can be tight… so if you'd like to help us for free then be sure to subscribe to our shows in YouTube, iTunes, and thumbs up and give us a nice review (we want to win a podcast award this year). Also following us on your favorite social media site (by clicking the icons in the side bar) and then sharing our content there is also a great way to help as well!  We can't thank you enough for enjoying our shows these last 5 years, hopefully with your support we can continue to do them for you.  We can't thank you enough for all your support!  We love you all!