Schwartz meets Ariana and Tom at a pet rescue, because now that he has no job and Katie feels he's not committed he thinks he needs to make a big gesture and getting a dog seems like
 the right thing to do. Tom being Tom though can't decide what he wants to drink most days definitely can't decided on what kind of dog to bring home so he recruited the two most responsible people he knows to help him make. Kudos to Tom for getting a rescue though and he does have ALOT of cuties to choose from. He ends up with a black terrier looking dog and his name is Gordo. He is pretty cute I'll give Tom Schwartz a pass on that one! Tom brings Gordo home and Katie is over the moon with the little guy. Tom realized he should have done that a long time ago!
Lisa is going to be on the cover of Frontier magazine, and thinks it would be a great addition to Stassi's resume for her to "style" her for it. They meet at  SUR to discuss it and Sheana was behaving like a toddler and refused to speak to Stassi so Lisa actually had to order her drink first, then order her own. Stassi agrees to be Lisa's stylist but like she said nobody styles Lisa Vanderpump, She'll wear what she wants to wear. Stassi is just an unpaid chiffon handler for the day. She does get to style Giggy though, because no photo of Lisa is complete unless that dog is there. In confessionals Lisa doesn't think Stassi is as appreciative of the opportunity as she should be and Stassi things Lisa is being rude for not thanking her for being an unpaid assistant for the day. Who do you think is right to have the beef.
Jax has had his surgery to "repair his deviated septum" and Tom Sandoval takes him back to the doctor to get his packing removed. That had to me the MOST DISGUSTING thing I ever say. He also reveals he engaged in some activity he shouldn't have but it was OK because she was on top so he didn't have to do anything. My question is what girl is finding a post op nose job sexy? Jax still had packing stuffed up his nose for god sake! Then the two have a nice conversation about how good-looking the MALE doctor is. Tom can't tell the difference between Jax's old and new nose but doesn't tell him that.
Kristin, Tom and James all return to work after the suspensions after Sheana's birthday bar brawl.  Jax seems to be recovered enough to return to work. Of course to get some sympathy from the ladies he is still wearing some tape on his nose. He confronts Katie about her not texting or  visiting him. Krisitn awkwardly goes up to Lisa and Ken and apologizes and tells her that she feels Peter attacked her. Lisa doesn't want her opinion on anything and tells her one more strike and she gone. I doubt that will ever happen
Sheana and Jax are trying to stir the pot and start talking about how Katie supposedly motor boated a guys crotch on the bar. Jax decides to bring this up to Kristin to and of course if there is drama Kristin is going to be right in there no questions asked. Jax has brought this up to Tom but Tom wasn't buying it and now they are planning to make Katie "come clean" or have the worse summer of her life. The SUR staff minus Katie and Tom are all having a roof top pool party and the conversation of course comes back around to Katie and the motorboating incident and how screwed up their relationship is (in their eyes anyways) because you can't just have an afternoon of fun where the SUR staff are involved. Afterwards Jax and Tom go see Schwartz to get him to see sense (in their mind)  Schwartz believes Katie and just wants everyone to leave it alone.
At work that night Kristin missing her friendship with Katie asks her why she can't be friends with Katie yet she can be friends with Tom. Firstly, Tom didn't do anything wrong. Kristin you were the one cheating with Jax and secondly you were one of her best friends. Tom wasn't in the same regard in Katie's eyes, and it's in Katie's best interest to be on speaking terms with her boyfriends best friend. Kristin brings up the motor boating to her and Katie smartly points out that if she was going to cheat she wouldn't do it in front of Jax and Sheana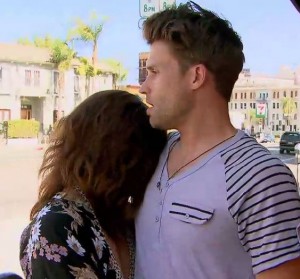 The next the day the boys are going for a bike ride and Katie, Stassi and Kristina are all having brunch. The topic of the Kristin conversation comes up. The boys decide to join brunch and the girl bolt and leave Katie behind. Jax and Katie start arguing about whether or not cheating happened. Schwartz just sits there wanting to disappear, and Sandoval is trying to quiet them down. Katie feeling attacked gets up to leave. All she wants (and I agree with her) is for Tom to man up and defend her. Katie is crying and he manages to smooth things over by telling her that he just doesn't care what they think. The boys are still trying to convince him and Tom is sticking to the fact that it probably didn't happen but if it did it was an isolated incident.
What do you think about Tom and Katie's relationship? Should Tom be concerned or are these motorboating rumors just that? Find out what Katie and all the cast thinks with Jon's audio vlog at yourrealityrecaps.com/bravo You can also find audio and written blogs for RHOA and RHOBH there