Listen the show right here, or download it from iTunes or Sticher from our PODCAST page.

GET SIGGYS BOOK HERE  –  START ALL YOUR AMAZON SHOPPING HERE –  Get Teresa's Book Here
WEEKS 8 & 9:   Hey all, it's Eric!  I am so excited to be back and doing these Bravo audio blogs for you!  Yes I know, its Big Brother season and we are still pumping out all our exclusive Big Brother 18 content over on those pages.  But we are here now to talk BRAVO!  Just keep in mind these ladies don't put up blogs regularly.  So I try to wait until I have enough to make a podcast out of them!  In preparing for those shows I would read the Real Housewives blogs over on the Bravo TV website… the thing is it always took me forever!  The pages took so long to load, were full of ads and well sometimes I just didn't want anybody to see me reading them!  I would get frustrated and recite my mantra, "I don't read… I'm read to"!  That's when it hit me… I should create a podcast where I read the housewives blogs for you all!  Plus I can comment here and there and put my comedic twist on them as I go.  
MISS SOMETHING:  Then check out our BRAVO PAGE for vlogs, blogs, comedic recap shows and the bravo blogs of other shows read to you!
DON'T FORGET… comment below and let us know what you think!  And if you can consider supporting all our free content by becoming a Patreon so we can keep bringing it all to you!  You get access to a special Facebook group, and patreon only shows!  More info on that and how to support us is below.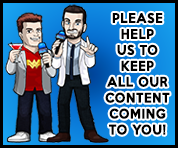 Do you like our shows?  Then PLEASE help us keep doing it!  The best way to do that is to become a Patreon!  Our patreons are what keep our site up and running.  You simply pick a month amount you want to donate (even $1.00 help) and that's it!   Plus Patreons get access to a SPECIAL PATREON ONLY FACEBOOK GROUP & PATREON ONLY SHOWS!  If you'd rather just do a one time donation you can use PAYPAL instead.  We appreciate ANY financial support you can give.  Like online shopping?  The use our Amazon link in the sidebar to start your shopping with them (you don't pay any more and we get a little back).  Or if you are interest in any of the ads in the side bar to the right check those out too.
Of course we get it, money can be tight… so if you'd like to help us for free then be sure to subscribe to our shows in YouTube, iTunes, and thumbs up and give us a nice review (we want to win a podcast award this year). Also following us on your favorite social media site (by clicking the icons in the side bar) and then sharing our content there is also a great way to help as well!  We can't thank you enough for enjoying our shows these last 5 years, hopefully with your support we can continue to do them for you.  We can't thank you enough for all your support!  We love you all!