Well we continue where we left off: Brawl in Eileen's drive way. Kyle is crying hysterically and yelling for Kim while arguing with Brandi to go away. Apparently Kim's and Brandi friendship has g
otten closer over last couple months. Kim has been calling Brandi for support as she has been over stressed with Monty and Wedding planning for Brook. Brandi said she tried to reach out to Kyle for ideas on how to help her but was shunned since Kyle says "It's just Kim". So that is why there is so much tension with these three! Eileen and Lisa are in the kitchen and come out confused as to what a
ll is going on and unsure what to do. Kim then turns on Lisa yelling "What did you tell her about the car ride" sparking Lisa to fire back saying "You were acting odd". Brandi and Kyle again continue their argument on who is there for Kim. Kyle says she is over it and storms off to the car crying. Eileenthinks that Kim and Brandi need each other for support of each others issues. Brandi keeps going on about being scratched to which Eileen tells her "Shut up and get some neosporin".
The ladies then leave different than they arrived. Kyle and Lisa leave together with Kim and Brandi in the other car. Lisa says there is too much booze flowing and thinks something is really off with Kim tonight all while Kyle is trying to hide in her leather seat from frustration. Lisa calls Brandi an alcoholic and needs to put herself in rehab. They think Brandi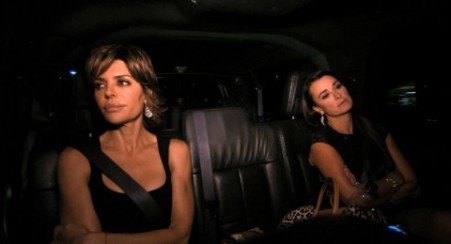 drinks so much to cover her own pain inside. Brandi tells Kim that she wasn't acting herself at the house and was trying to help her but Kyle kept getting in the way. Kim says she doesn't think Kyle knows how close they have gotten. Eileen and Vince sitdown and she tells him that its sad to see two sisters fight like that at their ages. Family is most important and that it doesn't make sense why Brandi kept getting in the middle of it all.
Yolanda is finally back from New York. She has a FaceTime chat with Bella to which took some time since she couldn't figure out how to get the screen the right way. Says it was hard to move Bella out but that she sends the girls text once she wakes up and likes to know when they make it home. She has a snack with her son Anwar who was only 11 when she moved in with David. She thinks it has been hard on him since the girls both have moved out and gives him a hug before he heads out for a Football game.
Lisa is excited to welcome home Rumpy from doggy training camp for three months. Says he was one crazy pup and hard to train. They have 6 dogs now butonce she sees Pumpy and how attached Rumpy has come to her she decides to keep her too. Rumpy and Pumpy are cute together and beautiful dogs. Says " This bitch is easy to deal with unlike some of the others in my life".
Jennifer comes to visit Brandi after a late night text that worried her. Brandi says it was a nightmare at poker night and that whether or not Kim wants to talk about it she fell off the wagon. She knows Kim is stressed and is disappointed with Kyle's lack of support.Jennifer asks if she has spoken to Kyle since and she says no and that she thinks they need some time.
Jewelry Party time and Lisa is rushing to getting everything perfect. She admits hilariously that she is a control freak and has issues. "I want it to be perfect and i know there is no such thing". Eileen meets and Lisa V while Yolanda meets at Kyles. Kyle informs Yolanda that Kim was taken to the emergency room and they think it's an ulcer. Eileen loves Lisa's house and drools over her closet. Tell's Lisa that at poker night Kim was clearly out of it and she doesn't know why and that Brandi made some rude remarks toward her house calling it "scary" and "American Gothic". Yolanda tells Kyle that alcohol can make people say things they don't necessary mean and confused on fighting at their ages. The girls all arrive and Kyle is avoiding Brandi. They both say in interviews this isn't the place and time to speak. Yolanda pulls Brandi aside to ask what was going on! Tells her she can't get drunk! Brandi fires back that she can fucking drink as much as she wants to and that she doesn't want a lecture. Tells her of how Kim needed help and she was trying to be a friend but that Kyle kept trying to get in the way. Eileen then steps in to speak to Brandi. Tells her that her comments about her house and cursing so loudly while her son was upstairs upset her. Brandi apologizes but in side interview expresses how she shouldn't have a poker night with her son at home then. The girls seem to easilysquash as Eileen tells her i wont attack you about this all the time. Brandi is annoyed by all the lectures and cuts out early. Kyle tells the girls of a Top toBottom party she is throwing where all the girls bring their gay friend. Kinda like a gay mixer. Lisa Rinna doesn't get it and laughs it off.
Kyle and Lisa V later go to grab a drink. Kyle says she has not heard from Brandi and that she deserves an apology. Can't trust her anymore and is extremely hurt. They both agree on not making anymore effort with Brandi to which Lisa says that Brandi is lucky to be in this social circle. Lisa ends it with saying she to can't trust Brandi anymore after her betrayal of her and Ken.
Will Brandi now become an outcast again? How will Kyle's party go next week with her surprise guest?Sound off in the comments below! Don't forget to check out all our Bravo content on our Bravo Page. We have blogs for all the Housewives shows and Vanderpump Rules and Jon is doing Audio Blogs for RHOBH, RHOA and Vanderpump Rules. They are HILARIOUS you don't want to miss them!