So Kyle is looking for an outfit for her girls/gays party mixer at her store with Matthew. They start to go over the guest list when party planners Cal and Brian show up. They discuss location and games. Cal came up with this game where everyone has a celebrity name on their back and they have to guess to figure out who it is. Matthew informs Kyle that there is indeed a drought in West Hollywood in the form of Tops. LOL Kyle thinks that she would be a top cause she likes to be in control and dominate. LOL
Yolanda peeks in on this episode as she is packing with Blanca for her trip with David to Italy for fundraisers. States that she misses her kids so much when she travels and that she will miss Anwar ever more now that she knows he is home alone. Says she has trust in Antwan while she is gone away on trip.
Lisa V. is worried (rightfully so) with Max wanting to know his heritage. Apparently when Max was younger he would ask "if anyone out was sad somewhere today". Breaks you heart. Lisa tears up and can see her struggle of feelings over Max wanting this info. Once Max shows up and starts to look up the info on the site it calls for his birth last name. Lisa immediately says im not going to tell you. So she instead enters the info for Max without him seeing. Max claims he doesn't ware to know his birth parents but just wants to know his heritage.
Brandi heads over to Kim's house to check up on her. Turns out Kim was in the hospital for 7 or 8 days. Kim said to Brandi she doesn't remember much from Poker night and thinks it was due to the pill she took from Monty for his cancer. We find out her issue with Kyle from the night is the bathroom scene to which took her back years to when Kyle did the same thing. She explains to Kyle in the flash back to Kyle that Brandi feels she has been there for her more lately and that Kyle has been ignoring her. Kyle says she has always been there for her and that Brandi is trying to get between them. Kim tells her "we have had up n downs but they are sisters and she loves her". Brandi tells Kim she thinks Kyle is more into her self than being there for her sister.
It is now time for the Ladies / Gay mixer!
Kim heads to pick up Brandi and Mark. Kim tells Brandi she is hoping everyone can move forward and just have a fun night with no drama. Brandi says that she will be nice. Everyone starts to arrive to Nic's for the party. Lisa V bring Shaun who works at her restraunt. Eileen brings Glenn and Christopher. Lisa has Lawrence. Kyle brings Matthew. Kyle starts to try to guess her celebrity with the Lisa's. Answer is Katy Perry. So Lisa Rinna says "oH" and goes in to kiss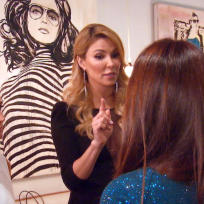 Lisa V!! Needless to say Kyle figured it out! All is going great in Kyle's world until Kim shows up with Brandi. Kyle can not let go that Brandi is there and is freaking out even tho Brandi seems calm and sober ! lol Kim tells Kyle she brought Brandi in hopes that everyone can move forward and have a good night. Eileen is immediately confused as to the ladies behavior as in this is not the right time and place to fixanything.
Brandi, Kim & Lisa Rinna are all talking. Lisa asks how long she was in the hospital for and for what. She says now 5 days and that she was in pain for a cracked rib and hernia. Lisa is soooo glad Kim went to the hospital since her recent behavior has been extremely odd. Kyle is still at this point running around the party about Brandi being there before she finally goes up to her again. Kyle then goes on to say sorry to Brandi but immediately follows with buuuut you shouldn't get between two sisters. So a back-handed sorry Kyle! Brandi sees what she did and says but you weren't there for her. Kyle is so ready to go on the offensive and is dragging out all of their issues they ever had. Kim is so confused as to why Kyle is pushing Brandi so hard with her words. Brandi says that she thinks Kyle is an attention seek
ing whore. Kyle now goes into saying she didn't invite Brandi to the party which is then followed by a flash back to Kyle bringing up the idea with Brandi there agreeing it be fun. Brandi and Kyle continue the same banter to which Kyle says tell me what Kim has said to you causing Kim to walk away. Kim tells Kyle she's upset that she is always fighting and bringing her into it. Kyle again yells at Brandi to which she tells Kyle "better back up before i knock your teeth out". Kim now jumps in the middle trying to break it up! Kim sits down and tells Kyle she is tired of her starting drama about her. Brandi is still there and Kyle tells her to leave and she isn't wanted. Brandi fires back "Neither are you ask your husband". While all this is going on the soap stars are at a confusion on what to do LOL. Kim says she is tired of being drug into all this and Kyle says "Your gonna let someone like her come between us". We are again let with a to be continued!!
What will happen in the aftermath of the party? Will Brandi and Yolanda friendship hit an iceberg?Sound off in the comments below! Don't forget to check out all our Bravo content on our Bravo Page. We have blogs for all the Housewives shows and Vanderpump Rules and Jon is doing Audio Blogs for RHOBH, RHOA and Vanderpump Rules. They are HILARIOUS you don't want to miss them!