It's a new dawn in the BBCAN house. The women are in power and the Chop Shop thinks they can make Brittnee nominate Johnny. We finally see the emergence of Brittnee. After two weeks she's come out of her slop coma like a butterfly from their caccoon. She has her sassy pants on and she is fighting mad! Her main target this week is the Ginja Ninja Graig! Praise the Lord. This is why she was my pre season pick! Not only is she targeting Graig she has a whole master plan to do it and its brilliant. First get Newport on board. Check. Jordan and Zach are down.  Now she needs Johnny who is so distressed over putting her name down the day before he'll do whatever he needs to to get back into Brittnee's good graces. Sarah and Brittnee have finally named their alliance. The Fembots have a meeting in the bathroom (lets hope they checked the toilet). They can't wait to put their master plan in to gear and it all starts with the nomination ceremony.
Brittnee has pulled out a performance that is Oscar worthy. She first puts up Kevin, explaining he's a pawn.  Bobby is her second nominee and she tells him that she wants him to win Veto. She has bigger fish to fry and she never forgets who writes her name down. Johnny is scared on the couch and Graig is looking around like he just won the lottery. He has bought Brittnees performance hook line and sinker. Johnny's acting has made it even more realistic. He plans to continue his sulk for the day to make Graig feel even more at ease. The Fembots plan is working perfectly. They are sitting pretty while Graig thinks Brittnee's move was a stupid one, but they'll make it work
The Big Brother Gods are smiling upon Brittnee this week. The Veto pick couldn't have gone anymore perfect. Sarah and Johnny are both picked and Kevin gets house guest choice. He chooses to name Zach since he is in the Bromuda Triange with him. Newport is also in on the master plan of Brittnee's so Zach was a perfect choice. Everyone is given their punishments in the meantime. Ashleigh and Jordan emerge from the DR wearing a bikini and a mankini with kiddie swim gear attached. Lets say we see Jordans rear end more than I ever imagine and it's pretty cute. Could have used a shave but cute. Willow is given her gear, and she in store for a pretty hellish 24 hours on it. Johnny is taking pies to the face anytime BB decides it's time. Does he mind being creamed by the guys in the house….of course not. Jordan puts a pie on his bum and creams him. Johnny is on cloud nine.
Big Brother is being especially cruel this year. This weeks Veto competition is called Spooling Around. These guys have three giant spools the need to attach the cord to them, unwind from the spool carry it to the spool on the other side of the yard and wind it around the spool over there. The first to have all three spools empties and put on the giant one wins Veto. Bobby quickly emerges as the leader with Brittnee close behind but the two get knotted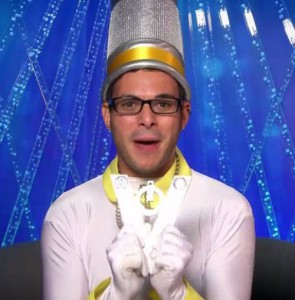 and they lose their lead. Poor Sarah has wrapped herself so tight that she can't breath. Shes vomiting and having panic attacks and has to quit the competition. Kevin and Johnny are neck and neck at this point and Kevin starts to feel the effects of all the spinning. He's now using his barf bucket. Zach is catching up and Kevin has to quit now he's feeling so awful. Johnny has a moment where he feels sick but composes himself. Zach gets tied up in knots as well giving Johnny the opening he needs to win the competition. He hits the buzzer and falls to the ground. Johnny has won the power of Veto.
Graig's spidey senses are tingling and after seeing Johnny stay up in the HOH room til 4am he's feeling a little unsure. He talks to Britt who assures him Johnny isn't using the Veto but something isn't sitting right. After talking to Bruno he goes back to Brittnee. She's had enough. She finally lays into him about his cockiness, how he thinks he has her under his thumb. She's annoyed he hasn't left her alone since she became HOH and that she is tired of him thinking she can't think for himself. He blames Johnny for Brittnee's attitude and they fight it out in front of everyone. At the Veto ceremony Johnny of course takes Kevin down. He says he hates bullies and that he hopes that Brittnee does what they discussed. Brittnee agrees about getting rid of the bullies and Graig is now on the block. I loved watching the real Brittnee emerge this week. Sassy and funny is what I was expecting her to be and she's finally delivering. Who do you want to leave the house this week? 
Don't forget to join Jon and I this week on Friday at 3pmEST for our Recap on our BBCAN page.  We also will be having exit interviews  on Thursdays so tweet us your questions #YRRLive right after the episode so we can ask them what you want to know.  Check out our exit interview with Naeha below. 
Don't forget we are also covering Survivor, The Amazing Race, RuPaul's Drag Race, Hell's Kitchen and all the Bravo shows so check out the site, new content is happening every day!