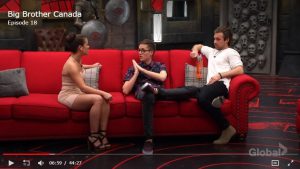 After Johnny's emotional outburst after Erica's eviction, he digs in his heels saying that he didn't vote against Will. He says that someone cast a rogue vote to blame on him. Everyone knows this is BS, as Kaela counted the votes before putting Erica on the block. Kaela goes over to a crying Will and tells him that Johnny voted against him, and she told him that she had his back. Johnny swears to God that it wasn't him, but Kaela says that the whole house knows it was. She is so self-righteous and sanctimonious. He even tells Kaela to quit making him feel like a bigger piece of shit than he already feels like for not voting to keep Erica.
Now back to the Before or After HOH that was started after Erica's eviction…Will goes out on the first question. In DR, Ali says that Erica went home because she was a comp beast, and not winning competitions has been working for her, so she doesn't want to win this HOH. For the second question, all houseguests get the answer correct. Ryan is eliminated on question 3. He says he really needed to win this HOH because he needs the safety and information that comes with being HOH after Canada saved him. All remaining players get question 4 correct. On question 5, Maddy, Paras and Ali are eliminated. For the final question, Johnny, Liv and Derek all get it correct and it goes to a tie breaker. The houseguests are asked how many times the players in Fisherman's Barf dove over the barrel. The correct answer is 117, and Derek guesses 100 becoming the new HOH. Kaela jumps on him like a dog in heat and wraps herself around him. Girl, he's just not that into you. #Beard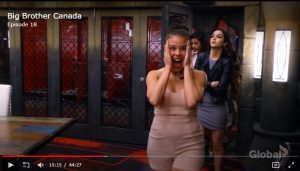 Johnny is upset that he lost the competition, and he doesn't know how to make it out of this position in the game. Kaela is again smug after the competition giving the camera Shit eating grins. BTW, that lipstick clashes with her outfit. I hate Kaela. She tells Derek in the pantry how proud of him she is, and he says they are going to win the game.
Johnny continues to deny voting against Will and says that someone voted against Will to blame it on Johnny, so they can come after him this week. Will is PISSED about having 2 votes against him. Ryan owns voting for Erica. He tells Will that he knew Erica was going home as soon as she went on the block. Will explodes on Ryan for voting against him. He tells Ryan he said he'd vote out someone on the block next to him. However, Ryan counters that Will would've voted him out over Erica, which is clearly true because Will can't even retort, saying for Ryan not to turn this around and Ryan turned his back on him. He yells that now he has to listen to Ryan's stupid mouth for another week. Ryan yells back that Will didn't have his back as Will storms up the stairs. Wide-eyed houseguests look on in disbelief. Ryan says Will is stomping away because he knows Ryan is right. Will says that "Ryan is always fucking right, eh?" Ryan replies that's what Canada says.
Will approaches Johnny again to double check that Johnny didn't vote him out. Johnny cops to having voted Will out. He says in that moment he saw Erica as being able to win a bunch of comps and get him to the end of the game. They head outside to discuss it privately. Will is hurt by Johnny's actions, and trust between them is broken, but Johnny says his only way forward to repair their relationship. He tells Will that he always thought about them going to final 2 with him cutting Erica at Final 3 as 100% true. Johnny knows that Will must be hurt by him and must have reservations moving forward with him. Will tells him that it's water under the bridge but says that Johnny must've thought Ali and Liv were voting him out, too, which obviously would've sent Will home. As Will hears Johnny out, he tells Johnny that he must come clean with the rest of the house because lying about the vote is how V went home. As Johnny heads in size, he says that he's coming for Johnny when he least expects it.
First up, Johnny goes straight to the HOH room, and lets Kaela and Derek know that he can't go to sleep after this. He admits that he lied, and that he saw his game slipping threw his fingers, so the only thing he thought he could do was deny his vote. He said it's eating him up inside, and he is telling everyone the truth. He tells them that he already told Will. After he leaves, Kaela and Derek say that he is such a good liar, but at least he's coming clean with everyone. This gives Derek a reason to put him on the block (as if his comp wins aren't what has them worried).
The houseguests participate in a Have Not comp called Buttsketball. One team member is strapped to a chair attached to baskets and must swivel to move the basket out of the way of the opposition to keep them from scoring. Johnny and Ali were picked as team captains. Johnny was smart and picked all the tall people to be on his team, which are Will, Maddy, Ryan and Ali's team is made up of Kaela, Paras and Liv. I wonder if the team with tall people will win a basketball game. The girls get a total 4 points and they guys score 24. So, Paras, Liv, Ali and Kaela are Have Nots this week.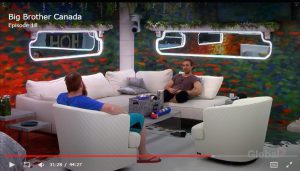 Ryan and Derek talk, and Ryan says that he's not going to pretend that he doesn't know the history between him and Daela, but offers to make a deal with him, even if it's just a week. He points out to Derek that Kaela will likely win the whole game, but Derek has his own game. He says that the showmance never survives. Derek says that when she goes home and he's still there, maybe he and Ryan can link up. In DR, Derek says that he's been given a lot to think about by Ryan.
Derek takes Paras to Wendy's, and Derek says that he can't wait to see if the drive-thru guy is hot. Okay. Digest that. I've been saying all along that Kaela is Derek's Beard and this edit does him no favors. They talk about Ali being untrustworthy, and that Liv will play without emotion. Paras is trying to plant seeds, but they aren't taking root since Daela is working with Ali and Liv.
Ali and Liv worry about losing Johnny as a number, and they want to try and keep him in the game. They discuss how Paras is playing a little game, and she has Will, Maddy and Ryan as numbers. They discuss that they could bring Ryan in, but not with them and Daela. He'd be their side piece. They want to deter Derek from putting up Ryan, and encourage taking a shot at Will, Paras and Maddy. Too bad Daela has made alliances with everyone. The people that they can put on the block are literally narrowed down to 2.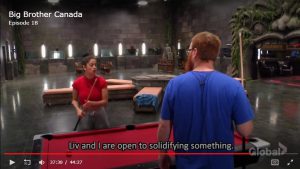 Ali talks to Ryan about working with her and Liv. Ali likes that he has a strategic mind that could be beneficial to them in the game right now. She tells him that she doesn't know Daela's plan for the week, but they could work together. She says that they wouldn't want to put their names or games on the line if Ryan has other allegiances. Ryan informs her that he is close with Paras.
Ali then goes to Derek to see if she can move the target off Ryan's back. She suggests that putting up Johnny next to Will is a smarter move than putting up Ryan and Johnny. He says that the biggest threats to he and Kaela right now are Johnny and Ryan, so he's thinking of putting them both up. She says that will make Johnny feel totally isolated, and Ryan won't think he's their #1 target.
Johnny talks to Derek. He says that he basically danced in kerosene and walked into a fire. He says that if he goes on the block this week, that he fears that he will go home. He points out that it's best for Derek to keep him around as a bigger target in front of him and Kaela. He says that he knows that Derek's reason would be that trust has been broken, which Derek confirms. Derek says that if Johnny really is on his side, it will be awesome to have him around to use POVs on him or Kaela if they're on the block or it could be a detriment. Johnny says that they should lock this down, but Derek's body language shows he's not buying it.
Derek nominates Johnny and Ryan. He says that Johnny is a competition beast and has an unbelievable social game but points out that he lied to the house about his vote. He says that he's had a rocky relationship with him from the beginning and doesn't know how they can build trust. He says that mixed with his strategic mind and competitive edge.
Before you go, please comment below. What do you think of the season so far? 
Enjoy Eric's nightly comedic shows on YouNow with BBCAN6 tea served piping hot. Former Big Brother houseguests will join him during the season. Make sure to FAN him on YouNow. Follow him on Twitter @RealityRecaps. You can follow me @rebeccakayj. If you ever have any complaints or issues, contact @YRR_Cust_Svc.
There is going to be SO MUCH to keep up with this season!  So make sure you follow us on TWITTER and check our BBCAN page daily for updates!
AND DON'T FORGET… we are doing YouNow shows all season when the feeds go down so make sure you BECOME A FAN there!  We will of course be doing recap shows and interviews too!  Whenever something goes down on the feeds we will get on social media via YouNow or Twitter to discuss LIVE with you!  We will have recap blogs after every episode and live tweeting during them!   Still want more? Then become a Patreon for EXCLUSIVE content, giveaways, access to reality stars and become a member of the private Patreon group! 
So in order to help support us in our coverage of Big Brother this season please consider: Getting the live feeds from us here or becoming a Patreon, making a pay pal donation.  Of course we get it, money can be tight… so if you'd like to help us for free then be sure to subscribe to our shows in YouTube, iTunes, YouNow, and thumbs up and give us a nice review (we want to win a podcast award this year). Also following us on your favorite social media site (by clicking the icons in the side bar) and then sharing our content there is also a great way to help as well! We can't thank you enough for enjoying our shows these last 8 years,hopefully with your support we can continue to do them for the rest of the year.  You could also see what specific help we need by checking out our HELP US page HERE!  We can't thank you enough for all your support!  We love you all!