BB hyped up the annual fan-favorite Slip and Slide endurance competition playing out on live feeds. Usually that comp lasts for at least an hour. However, this year BB had more competitors and shorter lanes. Once they got new All Access subscribers, the competition was over within 10 minutes on live feeds. Apparently, the BB head honchos got in trouble for the live feed failure according to a reliable inside source. Fessie ran the slip and slide, never falling once with Scottie and Tyler not far behind.
Fessie gets his HOH room and essentially holds a house meeting. He asks who the vote was to keep Rockstar. Scottie raises his hand, and then Brett hesitates and says, "Fuck it. It was me." Kaycee starts in on Scottie saying he voted against her when she talks to him all the time. She's backing up Brett's lie. Fessie breaks up the meeting and tells people that they can come and talk to him, but he'd like the room to himself now. Everyone clears out, but Kaycee continues yelling at Scottie downstairs. Fessie believes Brett because he was brave enough to admit his vote in front of Kaycee.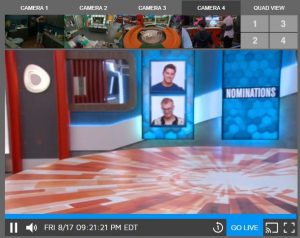 For nominations, Fessie decides that he's going to put up Brett and Scottie. There's really no talking him out of it. Haleigh has targets coming at her from Tyler, Angela and Kaycee, but his dumbass falls for the psychological warfare that Level 6 threw at him to make sure 2 of them wouldn't end up on the block. JC wants him to backdoor Scottie, but Fessie is set on his plan. He nominates Brett and Scottie. Scottie is pissed at Fessie and confronts him following the ceremony.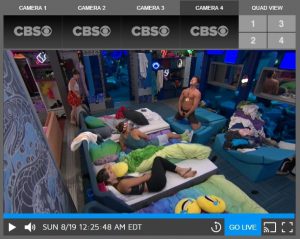 Zingbot made his annual visit, and some of the zings are: Angela is a cold-hearted bitch, Sam is real—real fucking crazy, Brett is a douche and Fessie is a moron. Basically, Zingbot states facts this year. The HG then played the Hide and Go veto competition. The players are Fessie, Brett, Scottie, Tyler, Haleigh and Angela. Scottie poured every liquid he could find all over the floor—milk, vegetable oil and more. This caused people to fall as they ran into the house. In the end Brett pulled out the win. He tells Level 6 that he's a sore winner and plans to wear the veto necklace for the next 2 days. This picture says it all.
After the veto, Brett, Sam and Scottie stayed up late talking shit about Haleigh. Sam is determined to get Fessie to backdoor Haleigh. They plan to pitch it to him on Sunday. Meanwhile, Fessie talks to Haleigh about the 2 of them teaming up with Tyler and Angela so they don't target each other. Tyler and Angela don't plan on honoring the deal. Right now, everyone thinks that Thursday is a double eviction.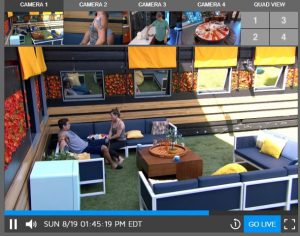 Sunday morning, Scottie tells Fessie that Haleigh is Kaitlyn 2.0, and she is playing them both. Next, Sam makes an insane pitch to Fessie to put Haleigh up in Brett's place; she tells him that she is ready to play the game and she will quit smoking if he puts Haleigh up. Then he can repair his relationship with Scottie. She is constantly trying to get him to pinky promise. He just tells her that he'll think about it, hugs her and mouths to the camera that she is fucking crazy.
Fessie must pick a replacement nominee, and he and Haleigh meet up with Tyler and Angela. They pitch the 4 of them making it to Final 4 since the other houseguests are expecting them to fire at each other. Fessie says that to guarantee that Scottie leaves, he needs to put up 1 of Tyler, Angela or Kaycee. Fessie says that Kaycee has no blood on her hands and handled the block very well last week, so he's going to make her his pawn. During their meeting, Fessie also lets them all know what Sam pitched to him. Haleigh is obviously pissed, but since Sam has been acting so crazy, they agree Sam should be the next target because she may make herself a bigger target than Scottie if Fessie puts her up this week.
Haleigh talked to Scottie with both ending up in tears. He admits that he said bad things about her to sever their ties, so she can build bridges with other people since he's going home this week. He admits calling her Kaitlyn 2.0. Prior to them talking, Scottie bragged to houseguests throughout the day that he's going to blow up her game with his speech at the veto meeting. Once he saw how deeply he hurt Haleigh, he says that he's going to apologize to her in his speech instead. Sam still thinks that Haleigh is probably going on the block as of the publishing of this blog because her pitch to Fessie was amazing. She's nuts.
Kaycee will be the replacement nominee and Scottie is out on Thursday. Surprising to have such #TeamFunFeeds this weekend as the number of houseguests dwindles. Damn—I would've liked to see Sam on the block to witness some more "real fucking crazy" the rest of the week.
Before you go, please comment below. What do you think of the season so far? 
Enjoy Eric's nightly comedic shows on YouNow with BB20 tea served piping hot. Former Big Brother houseguests will join him during the season. Make sure to FAN him on YouNow. Follow him on Twitter @RealityRecaps. You can follow me @rebeccakayj. If you ever have any complaints or issues, contact @YRR_Cust_Svc.
There is going to be SO MUCH to keep up with this season!  So make sure you follow us on TWITTER and check our BB20 page daily for updates!
AND DON'T FORGET… we are doing YouNow shows all season when the feeds go down so make sure you BECOME A FAN there!  We will of course do recap shows and interviews too!  Whenever something goes down on the feeds we will get on social media via YouNow or Twitter to discuss LIVE with you!  We will have recap blogs after every episode, spoilers blogs, feeds updates 24/7 on Twitter  and live tweeting during them!   Still want more? Then become a Patreon for EXCLUSIVE content, giveaways, access to reality stars and become a member of the private Patreon group! 
So in order to help support us in our coverage of Big Brother this season please consider: Getting the live feeds from us here, a Patreon, making a pay pal donation.  Of course we get it, money can be tight… so if you'd like to help us for free, please subscribe to our shows on YouTube, iTunes and YouNow, then thumbs up and give us a nice review. (We want to win a podcast award this year.) Also, follow us on your favorite social media site (by clicking the icons in the side bar) and share our content. It's a great way to help! We can't thank you enough for enjoying our shows these last 8 years. Hopefully, with your support, we can continue to do them for the rest of the year.  You could also see what specific help we need by checking out our HELP US page HERE!  Thank you for all your support!  We love you all!