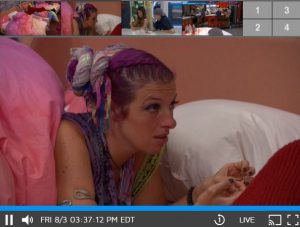 We saw Angela win HOH in the tie breaker with Rockstar. Rockstar is crying afterwards because she was so close, yet so far away. Pay attention in math class if you are going on BB, kids. And if you're a kid, stop reading my blog. I tend to cuss and say crude things a lot, so your parents won't approve. Go. Get your updates from @BB20LiveFeeds.
Before the HOH room reveal, Angela pulls her Level 6 members into the Have Not room to start her one-on-ones. Everyone is super excited that she won, saying they'd be fucked if Rockstar won. Then the feeds go away, and when they come back, the details of the Hacker Comp were revealed to the houseguests. The winner can take a nominee off the block, choose a player for the veto comp and then take a vote away from a houseguest. Angela is pissed because it fucks up her power as HOH.
Sam then has a brilliant idea, so she calls a house meeting. She tells everyone to throw the Hacker comp to her, and she will not change the nominations or make herself a nominee, will play in veto and throw it and will take her own vote away. She says that it's their way to take the game back into the way they usually play. Rockstar isn't down for it because the way people have been voting has surprised her every week. LMAO.
Angela had to make her noms early Friday morning, and Scottie and Rockstar are who she puts up. She lets them know that with the hacker, she really doesn't want either of them to go home. She tells them she's not putting up her best friends or people that she wants to go home because the hacker changes the entirety of being HOH.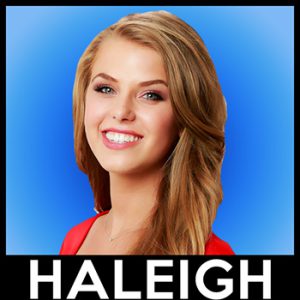 The Hacker comp was played, and as spoiled by a very reliable source on Twitter that's never wrong, Hayleigh won the comp. She is pretending that she didn't, only Fessy figured it out and is pissed at her for pretending that she didn't win. When is he not pissed at her? Dude, she's 21—she's behaving like it and she's not 'feeling you like that.' She doesn't want a showmance. We can smell your desperation all the way to the East Coast. He figured it out because when they were out of the comp, they got skulls and crossbones on their screens. It was some type of spelling comp. When she described going out of the comp, she said she got a frowny face. So, she's busted, but he hasn't told her he knows it's her. Hailey takes Scottie off the block, puts Tyler up, has Kaycee play in the veto and of course, we don't yet know whose vote she will take away.
The veto is totally stacked in Tyler's favor with the players being Angela, Rockstar, Tyler, Scottie, Kaycee and Brett. Scottie says he'll use the veto on Tyler. Jessie is back to host the Luxury comp. The way it worked out: Angela went out 4th but told Tyler and Scottie to trust her and let her have her HOH back. Scottie ends up with $5K and Tyler gets a trip to Hawaii. The punishments are Rockstar being on Jessie's Fitness plan all week, Kaycee is a Health Nut and Brett has a granny punishment of some sort for 24 hours. Every time the granny appears the feeds are cut.
Angela promises to use the Veto on Tyler and that Scottie isn't going on the block. Scottie comes clean about how shitty the other side is treating him, making him swear on the Bible that he did or didn't do things. He cries to Angela and Tyler about it. Scottie is now fully on board with being on the other side with Level 6 and Sam. Angela believes wholeheartedly that Bayleigh was the hacker, and she plans on backdooring her. All of Level 6 is playing their parts with precision. Brett is acting pissed off at Angela about getting a punishment. Scottie is trying to act like everything is okay with the remaining members of Foutte. Angela is pretending that she doesn't know what she's doing with the veto. Tyler is acting worried.
Meanwhile, Bayleigh, Haleigh and Rockstar are back to forming an all-female alliance with Angela and Kaycee. They're pretending to be all about it. They are trying to get Angela to go back on her word with Scottie and Tyler and put them both on the block. Kaycee and Angela are pretending to be on board, but are telling Level 6, Sam and Scottie exactly what they are saying to them. Those 3 plus Fessie are telling her that she's going to go down in BB history. Haleigh, Bayleigh, Rockstar and Fessie are now planting themselves in the HOH room.
So, tomorrow Angela is going to backdoor Bayleigh, blaming her for being the hacker. After her bitchfest HOH reign, karma is as big of a bitch as she was. Haleigh is the one to blame for it all and will be forced to choose between her two best friends on Thursday.
Part 2 of spoilers will be published tomorrow or Tuesday after the feeds explode tomorrow. #TeamFunFeeds. Bayleigh's power will walk out the door with her with Level 6 choosing to evict Bayleigh no matter who's vote Haleigh voids. LMAO!
Before you go, please comment below. What do you think of the season so far? 
Enjoy Eric's nightly comedic shows on YouNow with BB20 tea served piping hot. Former Big Brother houseguests will join him during the season. Make sure to FAN him on YouNow. Follow him on Twitter @RealityRecaps. You can follow me @rebeccakayj. If you ever have any complaints or issues, contact @YRR_Cust_Svc.
There is going to be SO MUCH to keep up with this season!  So make sure you follow us on TWITTER and check our BB20 page daily for updates!
AND DON'T FORGET… we are doing YouNow shows all season when the feeds go down so make sure you BECOME A FAN there!  We will of course do recap shows and interviews too!  Whenever something goes down on the feeds we will get on social media via YouNow or Twitter to discuss LIVE with you!  We will have recap blogs after every episode, spoilers blogs, feeds updates 24/7 on Twitter  and live tweeting during them!   Still want more? Then become a Patreon for EXCLUSIVE content, giveaways, access to reality stars and become a member of the private Patreon group! 
So in order to help support us in our coverage of Big Brother this season please consider: Getting the live feeds from us here, a Patreon, making a pay pal donation.  Of course we get it, money can be tight… so if you'd like to help us for free, please subscribe to our shows on YouTube, iTunes and YouNow, then thumbs up and give us a nice review. (We want to win a podcast award this year.) Also, follow us on your favorite social media site (by clicking the icons in the side bar) and share our content. It's a great way to help! We can't thank you enough for enjoying our shows these last 8 years. Hopefully, with your support, we can continue to do them for the rest of the year.  You could also see what specific help we need by checking out our HELP US page HERE!  Thank you for all your support!  We love you all!