After Sam's explosive speech during nominations calling out Kaitlyn and Haleigh for the way they treat the men and themselves with disrespect, the houseguests are in shock. Sam explains that she is old- fashioned, and she doesn't respect that type of gameplay because it's the easy way out. Kaitlyn sarcastically apologizes if anyone felt disrespected. She and Haleigh vent about Sam's speech Fessy is pissed because Sam insulted his wanna-be showmance Haleigh, and Kaitlyn is his best friend. Tyler doesn't know what she was thinking with that speech, although Sam is trying to get Kaitlyn to quit hanging all over him for the good of his game. Rockstar says that Sam's speech was off-putting because she put 2 females on the block while talking about female empowerment.
Tyler asks Sam what she is going to do if either of the noms come down, and she says she isn't telling who she will put up, but Rockstar is a possibility because she's made a big target of herself with the house, and she's a good friend of Kaitlyn and Haleigh's. She says that she'll let the veto winner do whatever they want, but she hopes that noms stay the same.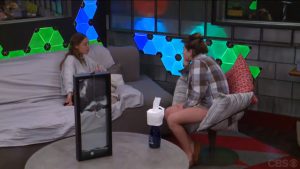 Kaitlyn cries to Tyler, Brett and Haleigh about Sam's speech. She talks to Sam, tells her she was bothered by her saying she disrespects the males in the house and the way she acts is the opposite of female empowerment. Sam says that she is very affectionate with Tyler and Fessy. Kaitlyn says that they are her good friends. She says she is very affectionate, and her family and boyfriend know it. She likes to touch and be touched. (Um…wait until she sees what Twitterverse thinks of her 'affection.') She tells Sam that she is a girls' girl, and if a guy and girl are on the block together, she's voting for a girl every time. Sam points out that Fessy and Tyler don't know that. Sam tells her that they have very different ideas of female empowerment. Sam advises her to take whatever she is feeling into the competition, which Kaitlyn says she plans to win. Sam says that she does, too. It's clear Kaitlyn is her target.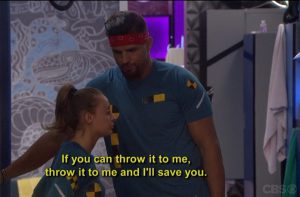 Fessy promises Kaitlyn he'll use the POV on her if she draws Houseguest Choice. Then, he tells Haleigh to pick him if she draws Houseguests Choice. He promises to use the POV on both if he wins, and they believe him. At the veto draw, Sam, Kaitlyn, Haleigh, JC, Rockstar and Fessy are picked with Haleigh choosing Fessy with Houseguest Choice chip. Before the competition, Kaitlyn pulls Fessy aside and asks him to again promise her that he will use the POV to save her. He promises, and they shake on it.
The houseguests are surprised when Queen Rachel Reilly arrives to host the POV competition. Using Bro Fund Me, she has revamped the poplar Punch Slap Kick machine from last year and turned it into Bonk Smack Spank. The players are then bonked on the head, spanked on the ass and smacked in the belly, except for JC who is repeatedly hit in the nuts, which he hams up in the DR with an ice pack on his junk. Fessy pulls out the win with Kaitlyn purposely answering the last question wrong to make sure that they are both safe this week.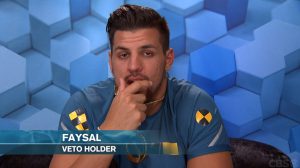 After the comp, Fessy lets Kaitlyn know that he doesn't know what he's going to do with the POV. Kaitlyn quickly puts together that Fessy promised both her and Haleigh he'd use the veto on them. She's pissed that he promised her and even shook on it. What the edit didn't show is Kaitlyn's incessant begging to be pulled off the block and Fessy holding using the POV over Haleigh's head to get into a showmance with him. Tyler lets Sam know that Fessy is using the veto, so she'll have to name a replacement nominee. Tyler asks her who, and she says that she's not telling anyone. Tyler recommends Rockstar.
At the POV meeting, Fessy indeed uses the Veto to take Haleigh off the block. Sam says that she wasn't planning to name another nominee. She starts to say that her best friend in the house is someone she thinks everyone enjoys. JC realizes she is talking about him, and he speaks up to tell her that he would never do that to her. She changes her mind to Rockstar.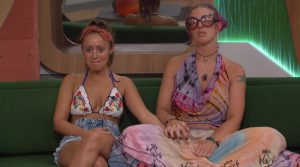 The ridiculous part of all of this is that Kaitlyn would've been voted out without Fessy making such a spectacle and forcing Sam to name a replacement nom. She then announces to both nominees that they will have a chance to re-enter the game since she didn't use her Power App in the first 3 weeks. Let's see how this turns out. JC and Haleigh are leading the charge on feeds to keep Rockstar, and Tyler is trying to get Level 6 on board to keep Kaitlyn.
Before you go, please comment below. What do you think of the season so far? 
Enjoy Eric's nightly comedic shows on YouNow with BB20 tea served piping hot. Former Big Brother houseguests will join him during the season. Make sure to FAN him on YouNow. Follow him on Twitter @RealityRecaps. You can follow me @rebeccakayj. If you ever have any complaints or issues, contact @YRR_Cust_Svc.
There is going to be SO MUCH to keep up with this season!  So make sure you follow us on TWITTER and check our BB20 page daily for updates!
AND DON'T FORGET… we are doing YouNow shows all season when the feeds go down so make sure you BECOME A FAN there!  We will of course do recap shows and interviews too!  Whenever something goes down on the feeds we will get on social media via YouNow or Twitter to discuss LIVE with you!  We will have recap blogs after every episode, spoilers blogs, feeds updates 24/7 on Twitter  and live tweeting during them!   Still want more? Then become a Patreon for EXCLUSIVE content, giveaways, access to reality stars and become a member of the private Patreon group! 
So in order to help support us in our coverage of Big Brother this season please consider: Getting the live feeds from us here, a Patreon, making a pay pal donation.  Of course we get it, money can be tight… so if you'd like to help us for free, please subscribe to our shows on YouTube, iTunes and YouNow, then thumbs up and give us a nice review. (We want to win a podcast award this year.) Also, follow us on your favorite social media site (by clicking the icons in the side bar) and share our content. It's a great way to help! We can't thank you enough for enjoying our shows these last 8 years. Hopefully, with your support, we can continue to do them for the rest of the year.  You could also see what specific help we need by checking out our HELP US page HERE!  Thank you for all your support!  We love you all!