Jason won the Everyone's a Wiener HOH competition. Alex threw it to him, although he swears he won it square and fair. He's being a bit douche-y about it. Once Alex and Jason were the last 2 up, Matt exploded on them for making everyone stand outside freezing and miserable, saying that he had 2 votes against him tonight during the eviction. Everyone is blaming Kevin and, for some odd reason, Raven. WTF? Why would she vote against her man? Everyone is on board with Matt and Raven going up and Kevin being a backup target. Except Jason. He's driving everyone else nuts. Matt and Raven went up under the guise that Kevin was being backdoored.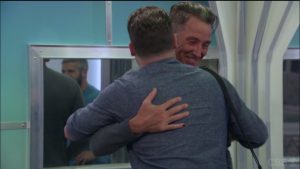 Ever since Jason won HOH, Kevin has been super paranoid and stuck to Jason like glue. The only reason he must be paranoid is if he is planning on taking out Jason or Alex. He is constantly checking in with everyone, saying "we're still good?" It's driving everyone nuts, and people have put together context clues to come to the conclusions that Kevin knows Derrick. The greeting that Derrick gave Kevin, calling him "Kev" as if they're friends and the way he sort-of pulled a fan boy when Derrick came in has Alex, Paul, Christmas and Josh doubting him. They think his stories are bullshit and that he is either a private investigator or cop. Hence, he knows Derrick. He has given various excuses for knowing Derrick, i.e. meeting him at the market and meeting him at a BB casting call. The problem with Kevin, as much as I enjoy him, is that his lies are catching up to him fast.
Paul, Christmas and Alex are starting to push Jason to put up Kevin as a replacement nominee, and Jason promised Matt and Raven that he will take one of them down if he wins veto. Strangely, Friday night the veto players were drawn. This confused the houseguests making them think they might be playing the black box competition. The veto players are Jason, Matt, Raven, Paul, Kevin and Josh. Players stayed up late thinking that BB would wake them up in the middle of the night for the veto, and it never happened.
Saturday was the veto competition, which was Hide and Go Veto. Since this is played individually, the feeds were down for about 5 hours. When the feeds came back, Jason had won the POV, and as per usual, the house was trashed. Jason ran his mouth (also as per usual) and blabbed the plan to use the veto on Raven and put Kevin on the block. Kevin acted like a freaking paranoid idiot the rest of the night. Alex and Jason got into a fight because Kevin made Jason promise not to put him on the block.
Meanwhile, Christmas, Alex, Jason, Josh and Paul are all pushing him to put Kevin up. They are giving him all the reasons why: $25K, the hinky votes, trying to sow discontent among their core group, having it out for Josh and Alex, knowing Derrick and the way he has talked badly about Alex, Paul, Josh and Christmas behind their backs. Jason would rather someone else put Kevin on the block. Alex points out to him that he is going to be losing 2 jury votes in Matt and Raven for telling them that he will take one of them down, whereas he would only lose one vote with Kevin.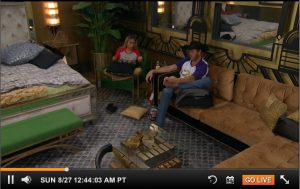 Jason is being stubborn, although he does see for himself the way that Kevin is overselling not putting him on the block. Alex and Jason have an argument over him not keeping his word to pull one of Matt or Raven off of the block. The Kevin and Matt/Raven bashing continued well into the night. Dumbass Matt made a flippant comment to Christmas that if Jason decided not to use the veto that they could just vote him out so he can go drink in the jury house. BTW, this season has seen the least amount of alcohol that I can ever remember, and, with fewer houseguests, BB PLEASE GIVE THEM BOOZE to make #TeamFunFeeds.
As of the publishing of this spoiler, Matt is slated to be evicted on Thursday. However, it is quite possible that could change if Jason grows a pair and puts Kevin on the block. Yes, Kevin fans will be devastated should that happen because he is funny as fuck and Matt and Raven are annoying as hell. However, end game BB is very much about jury management, and Jason isn't keeping his word to 2 jury votes by not putting Kevin on the block, whether he goes home or not.
I will update this post after the veto meeting if Jason changes his mind about not using the POV. A lot can happen in 24 hours. Hell, a lot can happen in an hour. It's BB. Expect the unexpected.
GET THE FLASHBACK TIMES HERE
Before you go… please comment below and let us know what you think!  Who do you think will win? Are you excited for this season? Let me know!
AND DON'T FORGET… we are doing YouNow shows all season when the feeds go down so make sure you BECOME A FAN there!  We will of course be doing recap shows and interviews too!  Whenever something goes down on the feeds we will get oepisodes, we will also be live tweeting during them!   Still want more?  Then become a Patreon for EXCLUSIVE content, giveaways, access to reality stars and become a member of the private Patreon group!  But what we're really excited about is our BIG BROTHER SPOILERS PAGE!  It's full of "Cheat Sheets" for you to use to stay on top of all the latest alliances and info!
So in order to help support us in our coverage of Big Brother this season please consider: Getting the live feeds from us here or becoming a Patreon, making a PayPal donation.  Of course we get it, money can be tight… so if you'd like to help us for free then be sure to subscribe to our shows in YouTube, iTunes, YouNow, and thumbs up and give us a nice review (we want to win a podcast award this year). Following us on your favorite social media site and sharing our content there is a great way to support us, too! We can't thank you enough for enjoying our shows these last 8 years, hopefully with your support we can continue to do them for the rest of the year.  You could also see what specific help we need by checking out our HELP US page HERE!  We can't thank you enough for all your support!  We love you all!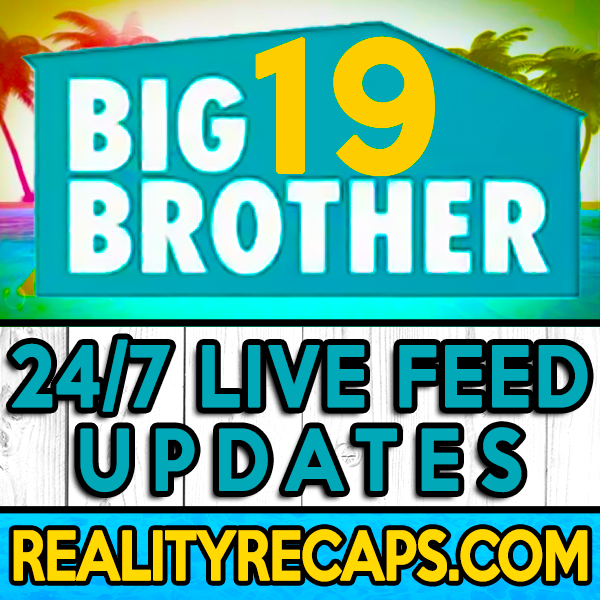 We also have a BRAND NEW TWITTER ACCOUNT which we will be using solely for our Live Feed updates.  It's a great way for you to find out what is going down as it happens 24/7 on the live feeds!  We wanted to keep it separate from our MAIN TWITTER ACCOUNT which covers all our shows because we love you and don't want to fill up your timelines!  Plus we will be posting news, gossip and spoilers there about BB19 exclusively too and we don't like to spoil on our main twitter account.  Now while twitter is a great way to get your 140 character live feed updates sometimes you just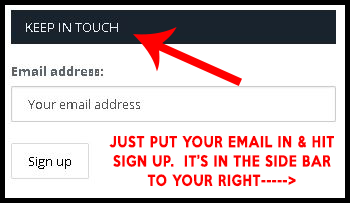 need more details, which is why we suggest you also join our newsletter!  This way you can get info like the exact cameras and flashback times for the updates we are giving you!  Plus, you can also get special prizes and all the latest info by subscribing to our monthly newsletter (WE WON'T SPAM YOU).  Thank you for all the support!