PREVIOUSLY ON THE REAL HOUSEWIVES OF NEW YORK:
After their time in the Berkshires the ladies decided to talk to Ramona about her lying. She was offended, eventually got over it. Aviva's father, George, got engaged to a 25 year old black woman named Cody. She is very beautiful and I liked her! She also looks like Brandy, the singer/actress. Ramona mentioned how Cody's parents died at their engagement party. How rude. The ladies went to Saratoga and bided on the horse races. The ladies won except Sonja and they left her at the race because she was talking to people. Sonja flipped out, she thought the ladies were ganging up on her.
      This week on the Real Housewives of New York, we continued where we left off from last week. Sonja decided to pack up and leave after her feud with Kristen and the rest of the girls. So, as Sonja was outside with the driving getting ready to go and looking for her phone in case she gets a booty call, she decided to go back into the house. She ended up talking it out with the girls and then farted. The ladies then all went out to spend their money that they won and they all had fun!
      Next, Ramona took Avery to get some driving lessons for driving in the city. I personally think that it was her first lesson of driving in general because she couldn't even determine which was brake or acceleration. After starting, Avery stopped and told her mom to put on her seat belt. Ramona said she trusted Avery and Avery refused to continue unless her mom put on her seat belt. Good job Avery, safety first. Avery was doing really well and finally she was asked by the instructor to try a parallel park and she nailed it in the first try. Then, she tried it again and bumped the back of the car.
      LuAnn co-hosted a charity luncheon event where they auctioned off dresses. All the ladies attended including Aviva. Aviva then saw former Miss USA who apparently slept with her dad and Cody!!! Aviva said she felt so awkward. Then, LuAnn and her co-host gave a little speech before they auctioned the dresses. While the other woman was giving her speech, the ladies Aviva couldn't help but to tell Heather to read her text, which eventually every had to read. So, as this woman was talking about cancer and her mother, the ladies were just sitting there giggling over this stupid text. LuAnn couldn't be more pissed. The auction then began with Kristen in a dress. Then, there were more and finally there was a final dress, which a surprise guest was wearing. LuAnn said she would be bidding for it since she is tall and instantly I knew who it was. So, as Aviva was bidding for this dress, starting at $150, Carole decided to up the price. The two went back and forth until Aviva won the dress for $550. Then, the surprise guest wa
s revealed. Bring the gummy bears and make sure we have a "chef" not a "cook" because we are going back to La La Land. It was the one and only, Kelly Bensimon. The look on Ramona's face was priceless, but overall she thought Kelly looked fairly well, which she did. Surprisingly, Carole and Kelly got along really well. They discussed books and all. Sonja then arrived. Better late than never. The ladies continued to discuss the whole Miss USA, George and Cody thing and Aviva explained what happened. Ramona then went up to the former Miss USA and brought up how she stayed at Aviva's. Poor girl! Ramona was putting her on blast. She then mentioned how George said they fooled around. Miss USA just laughed it off and said she did not part take in anything. LOL. I don't know who to believe!
      Sonja invited Kristen over her house for facials. Kristen arrived and Pickles, Sonja's intern greeted her because Sonja wasn't even there!
Apparently, she went out last night and she didn't come home! So, Kristen went inside and out to the balcony where Sonja's facialist, Satoko, was set up. Just as Kristen began to call Sonja, Sonja came through the door wearing what looked like a long skirt with a NYC t-shirt and baseball cap… What? She made her way upstairs to her room where Pickles was and began to discuss how she was up all night going at it with this guy. OMG. She then said that her dress was broken because he ripped it off her and that's why she was wearing the shirt. Sonja just took the "walk of shame", but she likes to call it the "victory lap." She made her way outside to Satoko and Kristen. She discussed where she was and Kristen told her how if she was gone till 10 am her family would have a search party for her. Then, Satoko began to gossip her head off saying that her friend sees Sonja with a guy with long hair. Then, she said how she thought it was Tomas, the french guy from St. Barths. And I'm pretty sure Sonja said it was. Satoko continued saying that LuAnn likes short french guys with thick accents because she likes to be in charge in bed. OMG, this chick has no filter. I love her. She needs to be a housewife! Sonja then told her to do something good to her face because she needs to meet with Carole and also her guy again. After hearing Carole, Satoko mentioned how Sonja had sex with Russell, Carole's ex! What! Apparently, Sonja had sex with him in California while he was still with Carole. Sonja didn't deny anything either. Kristen was baffled.
      Next, LuAnn and Carole met up and talked about how distracting it was that Aviva brought up the whole Miss USA situation at her charity auction. She also, said that she thinks that Aviva invited Miss USA on purpose to start drama and that the whole thing probably never happened. Kristen then walked up and asked the women if her face looked nice. She then mentioned how she heard a lot about LuAnn and Carole. So, Kristen began to tell LuAnn and Kristen how the facialist, Satoko, said LuAnn likes short french men because she likes to be in charge in bed. LuAnn was so offended. Then LuAnn said that both her ex-husband and Jacques are both tall. She said that there is nothing short about Jacques. LOL. Then, Kristen told them how apparently, Sonja hooked up with Russell while he was with Sonja. Carole didn't believe it at all. She sim
ply said that she is not his type and that Sonja just likes attention.
      Aviva is decorating her apartment with art done by young, new artist, including LuAnn's daughter. So, Aviva invited the woman over to help her and to look at all the art. Kristen is completely confused about the whole party and thought it was weird. So, after everyone saw all the art, Ramona decided to leave. I guess she wanted to go before any drama occurred. LuAnn asked if her and Aviva could talk. They went to the other room and L
uAnn asked Aviva right away if she invited Miss USA because of what happened with her dad. Aviva was instantly defensive, grabbing LuAnn's hands and saying she did not. I notice that whenever Aviva is confronted about doing something she gets super defensive and grabs someone's hands to defend herself. The ladies in the other room then came in and were looking extra awkward. As LuAnn went on, Aviva said that if LuAnn was calling her a liar, they were going to have a problem. LuAnn said that Aviva was completely inappropriate at the luncheon and that her father is disgusting. Aviva said that she only showed Heather and that Heather showed Ramona. Heather then jumped in and said that Aviva told her to. Aviva then said that no one should judge anyone's sex life and LuAnn agreed. Then, Aviva mentioned how LuAnn's daughter's art is sexual. LuAnn was offended. Basically, they dispersed after that and they began to talk to all the women about it and the show ended on that note!
       Thanks for reading! Leave your thoughts below and comment! Do you think Aviva invited Miss USA? Also, don't forget to check out Eric's audio blogs HERE and Jon's vlogs HERE! They are really entertaining and funny!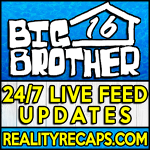 Also, Big Brother 16 is just around the corner and we are excited to share all things Big Brother with you! Get your live feeds HERE! Follow our BRAND NEW TWITTER ACCOUNT HERE for all thins Big Brother!